Washington - As newly ascendant House Republicans get down to business, they're vowing to forge ahead with long-promised investigations of the Biden administration, from the U.S. military's chaotic and bloody withdrawal from Afghanistan to the alleged weaponization of the Justice Department and the FBI.
Shrugging off accusations that they're about to launch revenge hearings as payback for the Democratic-led investigation of former President Donald Trump, Republicans say they simply want to exercise their oversight responsibility to hold the administration accountable.
Here is a look at the five biggest investigations Republicans have pledged to conduct during this Congress.
Justice Department and FBI
As far back as former President Donald Trump's first term in office, Republicans have accused the FBI and the Department of Justice of being politicized arms of government, an allegation both agencies deny.
The charge that the Biden administration has weaponized the law enforcement agencies against its political enemies became a Republican rallying cry after the FBI executed a search warrant at Trump's Mar-a-Lago estate last year as part of an investigation into Trump's handling of classified documents.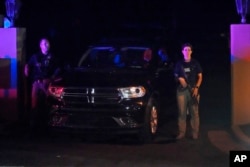 FILE - Armed Secret Service agents stand outside an entrance to former President Donald Trump's Mar-a-Lago estate, in Palm Beach, Fla., Aug. 8, 2022, as the FBI conduct a search.
In addition to investigating the unprecedented search, Republicans say they want to probe, among other issues, allegations that the FBI sought to suppress ahead of the 2020 election a damaging news article about the business dealings of then-candidate Joe Biden's son, Hunter Biden, that the bureau inflated domestic extremism data for political purposes, and that the Justice Department directed the FBI to spy on parents at school board meetings.
To 'investigate the investigators,' Republicans are set to form a select subcommittee to lead the inquiry on the 'weaponization of the federal government.' That subcommittee will operate under the auspices of the House Judiciary Committee, which has subpoena power.
In November, Republicans on the House Judiciary Committee released a report detailing what they termed 'a rampant culture of unaccountability, manipulation and abuse at the highest level.'
On NBC's 'Meet the Press' Sunday, Republican Congressman Dan Bishop said Republicans have agreed to give the panel sufficient authority 'to get the job done.'
Democrats view the Republican investigations as an attempt to discredit Justice Department probes of Trump and have vowed to block them where they can.
Hunter Biden
A related investigation, to be headed by the House Committee on Oversight and Reform, will focus on the business dealings of President Biden's family.
Hunter Biden has been a lightning rod for Republican criticism since 2019 when his father declared his candidacy for the 2020 presidential election.
Republicans say a laptop allegedly belonging to Hunter Biden that surfaced in late 2020 contains evidence of corrupt business dealings and influence peddling.
FILE - President Joe Biden and his son Hunter Biden are seen in Johns Island, S.C., Aug. 13, 2022.
Criticized for targeting the president's son, Republicans are casting a wider net.
'Let me be clear: We're not investigating Hunter Biden. We're investigating Joe Biden,' James Comer, the incoming chairperson of the House Committee on Oversight and Reform, said on NBC's 'Meet the Press.'
The Justice Department has been investigating Hunter Biden's foreign business dealings since 2018 but has not charged him with any crime.
The younger Biden has denied any wrongdoing, and President Biden has said he never discussed business dealings with his son.
Afghanistan
The tumultuous U.S. withdrawal from Afghanistan in 2021 is another widely expected target of Republican investigations.
The House Oversight and Reform Committee will lead the investigation along with other panels, with Comer already sending letters to the Department of Defense and other agencies requesting information about the exit.
The withdrawal led to the Taliban's return to power after a 20-year insurgency that took the lives of tens of thousands of Afghan civilians.
Thirteen American servicemen and at least 170 Afghan civilians died Aug. 26, 2021, when an Islamic State suicide bomber blew himself up outside Kabul Airport.
FILE - U.S. Marines are seen at Abbey Gate before a suicide bomber struck outside Hamid Karzai International Airport, in Kabul, Afghanistan, Aug. 26, 2021, in this image from a video released by the Department of Defense.
The Biden administration has faced criticism from Republicans and some Democrats for failing to adequately prepare for the withdrawal.
Republicans want to investigate the decision-making process that led to the withdrawal, faulty intelligence that prompted Biden to declare in early 2021 that the fall of Kabul was not inevitable, and the decision to leave behind billions of dollars' worth of military equipment.
Biden has repeatedly defended the withdrawal, saying getting out of Afghanistan was always going to be difficult.
China and COVID-19 origins
Republicans plan to keep an existing House Select Committee on the COVID-19 pandemic but intend to focus on the origins of the virus and the impact of lockdowns.
In a report in October, Republican staff of the Senate Committee on Health, Education, Labor and Pensions contended that the virus most likely resulted from a 'research-related incident' in China.
FILE - Security personnel keep watch outside the Wuhan Institute of Virology during the visit by the World Health Organization (WHO) team tasked with investigating the origins of the coronavirus disease, in Wuhan, Hubei province, China, Feb. 3, 2021.
The U.S. intelligence community has failed to reach that conclusion, and China said the pandemic originated outside its borders.
But Comer said the public deserves 'answers to what really happened in that Wuhan lab in China.'
As part of their upcoming investigation, House Republicans last month released a list of 40 White House and health officials whom they plan to call to testify, including Dr. Anthony Fauci, who retired last month as director of the National Institute of Allergy and Infectious Diseases.
Border crisis
Republicans say the Biden administration's 'open border' policy has led to a huge influx of migrants at the U.S.-Mexico border, with agents apprehending record numbers of people over the past year.
Among other things, Republicans say they'll investigate the administration's failure to 'protect the border,' allegations that agents whipped immigrants in Texas, a purported decline in border enforcement actions and deportations.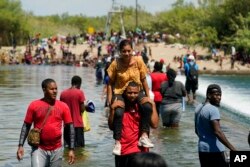 FILE - Haitian migrants use a dam to cross into the United States from Mexico, Sept. 18, 2021, in Del Rio, Texas.
The Biden administration late last week announced it will limit asylum claims at the U.S.-Mexico border and expand the use of the COVID-19 ban known as Title 42, while increasing the legal paths for some migrants to apply for asylum. They announced Thursday that up to 30,000 Cuban, Haitian, Nicaraguan and Venezuelan migrants would be allowed into the United States per month and allowed to work legally for up to two years if they apply from abroad, pass a background check and prove they have a financial supporter in the U.S.
Biden officials said those who fail to apply for the program and cross into the U.S. without authorization will be removed to Mexico under Title 42.
Some hard-right Republicans have called for the impeachment of Homeland Security Secretary Alejandro Mayorkas, accusing him of lying to Congress when he declared the border is secure.
Mayorkas said he has no plans to resign. 'I've got a lot of work to do,' he said Sunday on ABC's 'This Week.'