Washington - U.S. President Joe Biden struck an optimistic, determined tone in his second State of the Union address Tuesday night, lauding his legislative and policy achievements, reiterating his stances on contesting China and supporting Ukraine, and proclaiming that 'though bruised, our democracy remains unbowed and unbroken.'
'Because the soul of this nation is strong, because the backbone of this nation is strong, because the people of this nation are strong, the state of the union is strong,' Biden said. 'I'm not new to this place. I stand here tonight - and I've served as long as about any one of you have ever served - I have never been more optimistic about the future of America. We just have to remember who we are. We are the United States of America and there is nothing, nothing beyond our capacity if we do it together.'
Biden's words were delivered to a Congress whose leader, Republican House Speaker Kevin McCarthy, has vowed to use his slim majority in the House of Representatives to oppose many of Biden's priorities. For much of the speech, McCarthy sat stone-faced behind him in the chamber, sternly shaking his head when Biden criticized Republicans' economic policies.
Vice President Kamala Harris stands with Speaker of the House Kevin McCarthy of Calif., after President Joe Biden delivered the State of the Union address to a joint session of Congress at the U.S. Capitol, Feb. 7, 2023, in Washington.
Biden also used his platform to appeal to Republicans, who jeered when Biden criticized cost-cutting positions advocated by some of them, which he said will target entitlement programs such as Social Security and Medicare.
'Fighting for the sake of fighting, power for the sake of power, conflict for the sake of conflict, gets us nowhere,' he said. 'That's always been my vision of our country, and I know it's many of yours: to restore the soul of this nation, to rebuild the backbone of America.'
Transcript: President Biden's 2023 State of the Union Address
The bread and the butter
Biden spoke at length and in detail about the issue that Americans reliably say is crucial to them, saying, 'We're building an economy where no one's left behind. Jobs are coming back. Pride is coming back.'
And he argued that Congress should raise the debt ceiling, which is the maximum amount the U.S. Treasury can borrow to pay its bills. The U.S. hit its debt limit of $31.4 trillion in January. Congress now has until midyear to decide to raise the limit before the U.S. defaults. McCarthy has said Republicans will continue to oppose what they see as excessive spending.
'Let us commit here, tonight, that the full faith and credit of the United States of America will never, ever be questioned,' Biden said.
Expectations Low on Debt Ceiling Deal in Biden-McCarthy Meeting
Biden also outlined his views on gun policy, calling for a renewed assault weapons ban. He called on Congress to enact his immigration reform plan - or, failing that, to at least approve a plan to add equipment and resources to secure the border.
On one contentious and divisive topic, however, he was concise: 'Make no mistake;' he said. 'If Congress passes a national abortion ban, I will veto it.'
Special guests
As is custom in this pomp-filled evening, the president honored special guests who symbolized some of the issues.
For the second year in a row, Biden welcomed Ukraine's ambassador to the U.S. to the address, repeating his vow that the U.S. will support Ukraine against Russia's invasion for 'as long as it takes.'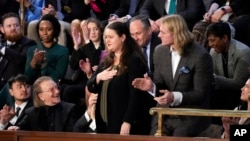 Oksana Markarova, the Ukrainian ambassador to the U.S., is recognized by President Joe Biden as he delivers the State of the Union address to a joint session of Congress, at the Capitol in Washington, Feb. 7, 2023.
Also present were the parents of slain Memphis resident Tyre Nichols, 29, who was killed by five police officers in January. Biden and Vice President Kamala Harris have used the tragedy to urge Congress to revisit the stalled police reform act that Democrats proposed after the 2020 killing of Minneapolis resident George Floyd.
'I know most cops are good, decent people,' Biden said, as Nichols' parents stood several times while the chamber repeatedly applauded them. 'They risk their lives every time they put on that shield. But what happened to Tyre in Memphis happens too often. We have to do better.'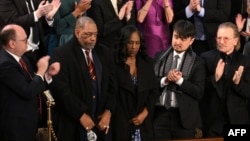 Rodney Wells (2nd L) and RowVaughn Wells (3rd L), parents of Tyre Nichols, are applauded after US President Joe Biden acknowledged them during the State of the Union address in the House Chamber of the US Capitol in Washington, DC, on Feb. 7, 2023.
And one guest who drew a standing ovation was not even present in the chamber. In promoting his Cancer Moonshot program, which aims to cut the cancer death rate by at least 50% over the next 25 years, Biden said he had invited 3-year-old Ava, who suffered from a rare kidney cancer, to watch the address from the nation's most famous home.
Ava's parents, who attended the speech, 'just found out that Ava's beating the odds and is on her way to being cancer free,' Biden said. 'And she's watching from the White House tonight - if she's not asleep already.'
The takeaways
In a rebuttal speech from the Republican Party, Arkansas Governor Sarah Huckabee Sanders criticized Biden's policies on immigration and the economy; slammed his gun and police reform proposals; described his foreign policy as weak, and questioned his fitness for office.
Sanders: Biden Administration 'Hijacked by the Radical Left'
'Being a mom to three young children taught me not to believe every story I hear,' she said, 'so forgive me for not believing much of anything I heard tonight from President Biden. From out-of-control inflation and violent crime to the dangerous border crisis and threat from China, Biden and the Democrats have failed you.'
This sets up a political and legislative challenge for Biden as he embarks on his next two years in office with the Republican party holding the reins of Congress' lower house.
And, she said, perhaps previewing Republicans' 2024 strategy, she drew a firm line under Republicans' fiscally and socially conservative views.
'His administration has been completely hijacked by the radical left,' she said. 'The dividing line in America is no longer between right or left. The choice is between normal or crazy. It's time for a new generation of Republican leadership.'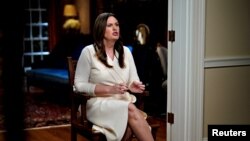 Sarah Huckabee Sanders, governor of Arkansas, speaks while delivering the Republican response to President Biden's State of the Union address in Little Rock, Arkansas, US, on Feb. 7, 2023.
Ahead of the speech, analysts said Biden needed to use the platform to convince the public of his vigor, something his detractors have questioned as he appears poised to announce another run for office, in 2024. His critics question whether, at 80, he is too old to serve another term.
The address was 'perhaps his best speech as president,' said Jeremi Suri, a professor of history at the University of Texas at Austin and 'a strong statement of his record and he made his agenda sound reasonable, moderate and personal (especially for seniors). He emphasized protection for seniors, help for the vulnerable, tax fairness and defense of democracy. He made his detractors and hecklers look extreme, unreasonable.'
Jonathan McCollum, a political strategist and lobbyist, told VOA that Biden used the address to sketch out his party's plan for 2024.
'In both substance and delivery, President Biden used this opportunity to highlight the significant legislative accomplishments of his administration, while also demonstrating he has the energy to serve as president for another term,' McCollum said. 'This was the first glimpse into how Democrats plan to market their party and their candidates heading into the next election cycle.'