Windhoek, namibia - U.S. first lady Jill Biden was visibly moved during a visit to an informal settlement near Namibia's capital Thursday, where she spent the better part of an hour listening to young beneficiaries of U.S.-funded programs describe their challenges and triumphs in a nation that ranks as one of the world's most unequal societies.
As a sudden afternoon storm beat down on the metal roofs of the hastily constructed Katutura neighborhood, Biden listened intently as teens and young adults described their work with the local Hope Initiatives program, which receives some U.S. grant money.
VOA asked her if she would take these stories back and lobby for an extension of the President's Emergency Plan for AIDS Relief program, which, for two decades, has provided crucial support for nations struggling with the burden of HIV and AIDS.
"I don't know whether I'll be lobbying Congress, but certainly I will be taking it back and we'll see where it goes, I'll work with my staff and see where we'll take it," she responded. "I mean - how many lives it has saved and how many lives it will continue to save, it's what, 20 years now I think? Yeah, 20 years. So it's an amazing program."
Biden encouraged an orphan who failed grade 11 because she had a baby, saying, "You'll get there. You'll do it because you have to. Once you have a baby, you know, you have to take care of that baby, that's your responsibility right? You'll get there. You'll do it. Because the moms are the tigers, we fight for our kids, right?"
Celebrates Namibia's 'strong democracy'
Motherhood and sisterhood have been themes of Biden's first visit to the continent as first lady, which she launched in the Southwest African nation of Namibia on Wednesday.
She also praised female leadership, answering a reporter's question about whether the U.S. is ready for a female president, saying "It's always time to have a female president, no matter what country you're in."
Earlier in the day, Biden praised Namibia's vibrant democracy at a pomp-filled, wine-laden, dignitary-heavy state luncheon with Namibia's first lady, Monica Geingos, and her husband, President Hage Geingob.
"I'm proud to be standing here standing with a strong democracy," Biden said. "And as Monica said yesterday, a young democracy working together. As Joe said at the summit, African voices, African Leadership, and African innovation are all critical to addressing the most pressing global challenges and realizing the vision we all share is a world that is free."
Thursday also happens to be the 30th anniversary of the first sitting of Namibia's first post-independence upper house of parliament.
Geingos, a Namibian entrepreneur and lawyer who is the president's third wife, said she invited Biden to visit after meeting at December's U.S. Africa Leaders Summit in Washington.
"Of course, there will always be differences," she said. "But what is important is what the Biden presidency represents. And that is decency, democracy, and diplomacy. This luncheon is to celebrate connection, and possibility."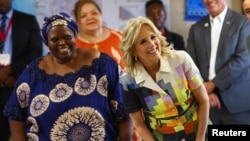 U.S. first lady Jill Biden, right, stands with Patricia Sola, founder of Hope Initiative Southern Africa in Windhoek, Namibia, Feb. 23, 2023.
On Friday, Biden plans to speak to university students about youth empowerment.
One such youth, the junior mayor of Windhoek, Moses Fillpus, thanked Biden for visiting and praised American ideals.
"Congratulate me for not fainting," quipped the 17-year-old in front of the room filled with some 200 people from the highest echelons of Namibian society, politics and diplomacy.
"For me, as a young African child growing up, I just consumed American media to the point where I even knew about it more than my own," he continued. "And I think that I speak for most of the youth that now it is the goal of the modern youth to achieve the American dream that we see on TV so much."
Visit helps fulfill President Biden's promise
Jill Biden is the first White House official to visit the country after President Joe Biden last year pledged to send administration officials to the continent. She follows Treasury Secretary Janet Yellen and U.S. Ambassador to the United Nations Linda Thomas-Greenfield, who visited earlier this year.
Like Biden, Thomas-Greenfield focused part of her visit around a food security crisis in East Africa - something Biden plans to highlight when she visits Kenya later this week. But these high-profile visits are also happening against the background of increased visits by top-level Russian and Chinese officials to the continent.
While the nation is a multiparty democracy, the same party - Geingo's South West Africa People's Organization - has led since the nation won independence more than three decades ago. And that liberation struggle pulled in other countries for support. Earlier Wednesday, Biden laid a wreath at Heroes' Acre, a memorial to those who fought for the nation's independence.
That memorial, with its brutalist sculpture and wide expanses of stone, bears an uncanny similarity to the Heroes' Acre in Zimbabwe's capital, maybe because both memorials were built by the same North Korean company. That same firm built the imposing, modernist gray cement State House where Biden was so warmly received by the first couple.
U.S. first lady Jill Biden hands out sweets to children outside the Hope Initiatives Southern Africa, in Windhoek, Namibia, Feb. 23, 2023.
Biden also spread some warmth. As she prepared to leave Katutura, she made an unscheduled stop on the street, emerging from her SUV with a navy blue tote bag. Scores of small children - many in clothes that were torn or dirty - swarmed her as she handed out small boxes of M&Ms bearing President Joe Biden's seal and signature.
She and granddaughter Naomi quickly passed out every box, until she was faced with an empty bag and a young boy, his eyes wide. She motioned that she was out of candy and he turned away.
Wait, she said to the little boy. He turned back. She handed him the tote bag.