Johannesburg, South Africa - As a school kid in Mogadishu, Farhia Mohamed Kheyre spoke in an unusual way. When her teachers asked questions in class, Kheyre would answer in a newsreader's voice, she told VOA, bursting into laughter at the recollection.
She was copying the news presenters she heard daily when her family listened to the radio.
But when it came to pursuing a career in journalism - a male-dominated profession in Somalia - her father was against it.
He was worried for her safety due to the insurgency by the militant group al-Shabab. Some of her other family members were concerned that a job in media went against cultural and religious norms in the Muslim country.
That's a problem common among Somalia's female journalists, many of whom defy family and societal expectations to do work that they believe is integral to their nation's future.
"Freedom is important," said Kheyre, 29, who now heads the Somali Women Journalists Organization, an advocacy group fighting for the rights of women in an industry that she and others say is rife with sexual harassment and discrimination.
As part of those efforts, members of the organization have been traveling to newsrooms around Somalia to promote a handbook about how to recognize sexual harassment in the workplace and what to do about it.
"For us, our focus is giving female journalists more training and skills," Kheyre said of the 200 plus-member organization. "We are also doing advocacy. Some female journalists when they're getting pregnant, they're not getting the salary. When there are sexual harassment cases, we try to solve that issue."
Changing the game
Robert Few, head of communications for the United Nations Development Program in Somalia, echoes Kheyre's assessment of the media landscape. For that reason, he said, the U.N.-funded newsroom Bilan is a game-changer.
Launched last year, the all-woman operation has a team of six female journalists.
"[Bilan] has gained a huge local audience and broken new ground on subjects like HIV, autism and women's health, spurring public debate and calls for policy change," Few told VOA.
The outlet produces text, radio and TV stories, which are distributed locally by one of the country's leading media houses, Dalsan.
"They have also been commissioned by international media like The Guardian, BBC and El Pais, demonstrating that Somali women journalists can compete at the highest level and [blaze] a trail for other Somali women in the media," Few said.
Untold stories
Fathi Mohamed Ahmed, is chief editor at Bilan. Like Kheyre, her interest in the media came at a young age when her grandmother played BBC news constantly on the radio.
But the 28-year-old journalist said she hid the fact she was studying media. For months she told her family she was doing IT, because they didn't think journalism was a job for a woman.
After eight years as a reporter, her family are proud of her accomplishments, she said, and she even shares links to her stories with them.
She said the main difference working for Bilan is that the reporters speak to female sources all the time and it's much easier to report on sensitive topics such as domestic violence.
The mother of three said previously she and her male colleagues mainly told stories about men.
"Bilan is different from the others because we focus on what's going on in society: women, children, health...traditional media don't cover this, they just focus on politics all the time," she told VOA.
"I like this job environment because we are free from harassment and we understand each other," she said of the all-female newsroom.
When Bilan started, it attracted criticism and threats, with some in Somalia saying that women shouldn't be working alone or with foreigners, Mohamed Ahmed said.
While all Somali journalists work in incredibly difficult circumstances due to al-Shabab attacks, "when you're female it's harder," she said.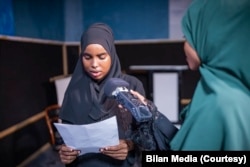 Bilan produces text, radio and TV stories that are distributed locally by one of the country's leading media houses.
Mohamed Ahmed survived a massive truck bombing in Mogadishu in 2017 that left her colleague from another news organization dead.
Kheyre told VOA that it's hard for women to go out onto the street for reporting and many will wear a full niqab, which covers the face, in order to do so.
She said her organization gives safety advice, such as not rushing to report at the scene of an explosion because journalists and emergency workers are often targeted a few minutes later by a second bomber.
Al-Shabab particularly dislikes female journalists, she said. "They said we are haram (forbidden), they say Muslim females must stay at home."
Inspiring change
For Bilan reporter Kiin Hasan Fakat, her inspiration to work in media came from growing up in the sprawling Dadaab refugee camp in Kenya, after her family fled Somalia when she was a child.
Her uncle had a radio and when she returned to the camp from school each day they'd listen to Voice of America.
Fakat, 26, was encouraged by a female reporter who broadcast for the Somali language service. She started to think that maybe she too could be a journalist.
"I like talking to people, talking about issues," Fakat said, adding that the stories she's most proud of for Bilan were ones that shed light on underreported or taboo issues, such as a story about a mother living with HIV.
After that story published, members of the Somali diaspora sent money to help the woman she had interviewed, Fakat said.
The journalists at Bilan receive regular mentorship and training from seasoned foreign correspondents, including the BBC's Lyse Doucet, who tweeted after meeting the women in November: "What a privilege to meet this brave team of journalists telling new stories & telling them so well."
Kheyre, who recently became a new mother, says she would never block her daughter from being whatever she wants when she grows up, whether that's a pilot, or yes, even a journalist.