Accra - U.S. Vice President Kamala Harris is expected to pledge a new era of partnership with Africa as she speaks Tuesday at the Black Star Gate in Ghana's capital.
The address comes on the second full day of her weeklong trip to Africa.
Her schedule Tuesday also includes a visit to Cape Coast Castle, a place where enslaved Africans were once loaded on ships headed to the Americas.
Harris Monday pledged stressed that U.S. interests in African nations extend beyond competing with China.
She spoke Monday at Jubilee House, seat of Ghana's presidency, alongside Ghanaian President Nana Akufo-Addo.
Vice President Kamala Harris is welcomed by Ghana President Nana Akufo-Addo in Accra, March 27, 2023.
'To help address the threats of violent extremism and instability, today I am pleased to announce $100 million in support of Benin, Ghana, Guinea, Cote d'Ivoire and Togo,' she said. 'Last week, President Joe Biden announced a strategic plan for coastal West Africa as part of the United States Strategy to Prevent Conflict and Promote Stability. Today, funding and the announcement that I've just made will help implement that plan and will address security, governance and development issues in the region.'
Harris Pledges Security Assistance, Partnership in Ghana Visit
Harris also said Monday that the U.S. will commit more than $139 million in assistance, most of which will support conflict prevention in the Sahel region, where Islamist extremists have expanded their footprint.
Harris is the fifth top U.S. official to visit the continent this year, and she deflected criticism that the U.S. sees African nations through the lens of its own competition with China, which has built massive infrastructure projects and loaned billions of dollars to African nations in what many see as a fight for influence and access.
Survey: Africans See China as Positive Force
'The president and I had a conversation on this very topic, but the conversation was not about China as much as it is about the enduring and important direct relationship that the United States has with Ghana and with African nations,' she said. 'I will tell you that we are very clear - and I will speak for myself and on behalf of the Biden-Harris administration - that the relationship between the United States and this continent and African leaders is an important one. There's a historical basis for the relationship, not to mention as we look forward, as all governments should, and recognize the unachieved - as of yet - opportunities that exist going forward.'
Akufo-Addo agreed.
'There may be an obsession in America about the Chinese activities on the continent, but there's no such obsession here,' he said. 'China is one of the many countries with whom Ghana is engaged in the world. Your country is one of them. Virtually all the countries of the world are friends of Ghana, and we have relations in varying degrees of intensity with all of them. Our relationship with America is a relationship that has been forged over several decades, right from the time of independence up till now.'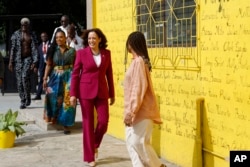 Vice President Kamala Harris, followed by actress Sheryl Lee Ralph, visits the Vibration studio at the freedom skate park in Accra, March 27, 2023.
Harris also toured some of Accra's vibrant arts scene, visiting a skateboard park and recording studio. Tagging along for the ride was actor Idris Elba, who spoke to journalists.
'I think this is a great, significant signal for the VP to come to Ghana, to come to Africa and be that interface and, you know, to show the rest of the world that actually it's a fantastic place to sort of look at in terms of partnership and investment,' he said.
U.S. Vice President Kamala Harris, flanked by Ghana upcoming artist Baaba J, right, visits the Vibration studio at the freedom skate park in Accra, March 27, 2023.
Harris travels on from Ghana to Tanzania, with another stop on her trip in Zambia.
Some information for this report came from The Associated Press.