Sudan's warring parties signed a commitment late Thursday on guidelines for allowing humanitarian assistance, U.S. officials said.
Representatives of the army and paramilitary forces, who have been fighting for nearly a month, signed the agreement in Jeddah, Saudi Arabia, on a "declaration of commitment to protect the civilians of Sudan," a U.S. official involved in the talks said.
The commitment is not a cease-fire but rather aims to help secure humanitarian aid.
The agreement requires both sides to permit humanitarian assistance, to allow the restoration of electricity, water and other basic services, to withdraw security forces from hospitals and to arrange for "respectful burial" of the dead.
A team from King Salman Humanitarian Aid and Relief Centre push a load of relief supplies, inside a Saudi military C130 plane before it takes off from King Khalid airport to Port Sudan, in Riyadh, Saudi Arabia, May 10, 2023.
'We are hopeful, cautiously, that their willingness to sign this document will create some momentum that will force them to create the space' to bring in relief supplies, the U.S. official said. Still, the two sides remain 'quite far apart," the official added.
Earlier on Thursday, the U.N. Human Rights Council barely managed to pass a motion to increase monitoring of human rights abuses in Sudan, where hundreds of civilians have been killed since a conflict began last month.
Backed by the United Kingdom and the United States, the motion passed 18-15.
The initiative grants the U.N.'s Sudan expert more powers to monitor abuses, among other measures. It was watered down several times in recent days in order to gain approval.
'I think it's really important that the people of Sudan know that we here in the Human Rights Council in Geneva are watching what is happening, that we are appalled by what we see,' British Ambassador Simon Manley told Reuters after the vote.
No African country voted in favor of the initiative. Sudanese Ambassador Hassan Hamid Hassan said the conflict was internal and reiterated the refrain of 'African solutions for African problems.'
Earlier Thursday, U.N. human rights chief Volker Turk urged countries with influence in Africa to encourage Sudan's warring sides to end the fighting.
Addressing an emergency session of the U.N. Human Rights Council in Geneva, Turk said the conflict has pushed "this much-suffering country into catastrophe."
'I condemn the use of violence by individuals who have no regard for the lives and fundamental rights of millions of their own compatriots,' he said.
Fighting in Sudan's capital worsened Wednesday, with witnesses reporting airstrikes, rocket-propelled grenades and gunfire in several neighborhoods.
FILE - Sudanese Gen. Abdel Fattah al-Burhan speaks during a military-backed rally, in Omdurman district, west of Khartoum, Sudan, June 29, 2019.
The Sudanese army, led by General Abdel Fattah al-Burhan, struck targets in Khartoum and its two sister cities, Omdurman and Bahri. The army is trying to dislodge the paramilitary Rapid Support Forces, led by General Mohammed Hamdan Dagalo, which have dug into the residential areas they have held since fighting began in mid-April.
In recent weeks, there have been concerns - including from U.S. Secretary of State Antony Blinken - that Russia's Wagner mercenary group was involved in the conflict.
Wagner's head, Yevgeny Prigozhin, said Thursday that the paramilitary group was not operating in Sudan and had not been involved in politics there since army officers deposed Omar al-Bashir in 2019, according to Reuters.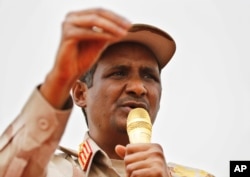 FILE - Gen. Mohammed Hamdan Dagalo speaks during a rally in Mayo district, south of Khartoum, Sudan, June 29, 2019.
'Wagner is not in Sudan,' Prigozhin said in an audio clip posted on Telegram. 'Wagner never got involved in the domestic political affairs in Sudan after the departure of Omar al-Bashir.'
Regardless of whether Wagner is involved, the conflict is only getting worse.
According to the World Health Organization, the fighting has left more than 600 people dead and more than 5,000 others injured.
Delegations from the army and the RSF have been meeting in Saudi Arabia for almost a week. The opposing generals are former allies who together orchestrated the October 2021 military coup that derailed a transition to civilian rule following the 2019 ouster of Bashir.
Tensions between the generals have been growing over disagreements about how the RSF should be integrated in the army and who should oversee that process. The restructuring of the military was part of an effort to restore the country to civilian rule and end the political crisis sparked by the 2021 military coup.
Repeated cease-fire agreements have failed to end the conflict or even do much to reduce the violence.
The U.N. refugee agency said Tuesday that more than 700,000 Sudanese have fled their homes since the violence broke out last month - a figure that is more than double the 334,000 the agency reported to be internally displaced last week.
The International Organization for Migration said an additional 100,000 Sudanese have fled the country.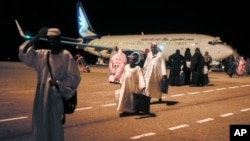 Sudanese pilgrims, who had been stranded in Jeddah, Saudi Arabia, arrive at Port Sudan airport, May 11, 2023. The conflict between the country's military and a rival paramilitary group has killed hundreds and displaced hundreds of thousands since it broke out in mid-April, creating a humanitarian crisis inside the country and at its borders.
Most aid operations have been suspended or severely scaled back because of the lack of security. Several aid workers have been killed in the fighting.
Looting also has hampered aid operations. The World Food Program said nearly 17,000 tons of food worth between $13 million and $14 million have been stolen from its warehouses across Sudan.
The WFP said Wednesday that up to 2.5 million additional people in Sudan are "expected to slip into hunger" in the near future because of the violence. The U.N. agency said this would take acute food insecurity in Sudan to record levels.
More than 19 million people, or two-fifths of Sudan's population, are currently affected, according to the WFP.
Some information for this report came from The Associated Press, Reuters and Agence France-Presse.