New developments:
Ukrainian Foreign Minister Dmytro Kuleba discussed 'ways to stop Russian aggression' in talks with Chinese envoy Li Hui, Ukraine says.
Ukrainian President Volodymyr Zelenskyy says Russian shelling killed 5-year-old boy in Kherson.
White House says Group of Seven leaders convening in Hiroshima, Japan, later this week are set to engage with Zelenskyy.
The U.S. overcounted the total of U.S. military aid provided to Ukraine by about $3 billion, a senior defense official and a military official told VOA, an accounting error that could soon eliminate concerns the administration would need to ask Congress for more money to keep Kyiv in the fight this spring.
The Department of Defense was counting the cost incurred to replace the weapons given to Ukraine when calculating its aid package estimates, while it should have been totaling the cost of the systems actually sent, the officials said.
For example, if the U.S. provided an M777 Howitzer to Ukraine and replaced that loss to U.S. stocks with a High Mobility Artillery Rocket System, the Pentagon had been using the cost of the replacement HIMARS when calculating the total amount of aid given to Ukraine. According to officials, the Pentagon should have been using the cost of the M777, not the cost of its replacement, when calculating aid package costs.
The Pentagon is now reevaluating the estimates for all 37 Ukrainian military aid packages and expects the cost difference to provide the Department of Defense with 'a little more than $3 billion' in congressional-approved funds for additional military support. This could potentially raise the amount of remaining funds that the Pentagon has available to aid Ukraine through September 30, 2023, from more than $6 billion to more than $9 billion.
Missile attacks
Earlier Thursday, Ukraine said that Russia launched another 30 cruise missiles across the country overnight, with one of them getting through and killing one person and wounding two others in an industrial building in the southern city of Odesa.
Ukrainian officials said its forces shot down 29 of the missiles, as well as two exploding drones and two reconnaissance drones.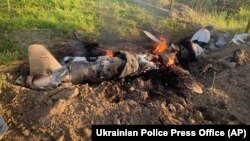 In this photo provided by the Ukrainian Police Press Office, fragments of a Russian rocket shot down by Ukraine's air defense system smolder after a night rocket attack in the Kyiv region, Ukraine, May 18, 2023. (Ukrainian Police Press Office via AP)
Some of the missiles targeted Kyiv, the ninth attack against the capital city since the beginning of May. Even as the head of Kyiv's military administration, Serhiy Popko, said Ukrainian forces shot down the Russian missiles directed at the region, falling debris set off fires in several areas.
The missile attacks have been a clear Russian escalation ahead of what Ukraine has said will be a counteroffensive aimed at retaking territory held by Russia in the eastern regions of Ukraine.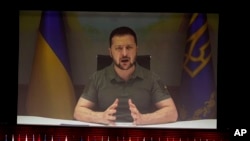 FILE - Ukraine's President Volodymyr Zelenskyy addresses, via videolink, participants of a Council of Europe summit in Reykjavik, Iceland, May 16, 2023.
Train derailment
A pro-Russian transport minister on Thursday reported the derailment of eight train cars carrying grain in occupied Crimea, prompting renewed suspicions about possible Ukrainian saboteur activity behind Russian lines. The Crimean Railway company said the derailment was caused by 'the interference of unauthorized persons' but that there were no casualties. Ukraine officials refuse to comment on possible acts of sabotage.
As the attacks continue, China said its special envoy met earlier this week with Ukrainian President Volodymyr Zelenskyy to discuss Beijing's peace proposal, although there has been no apparent breakthrough to end the war. Chinese Foreign Ministry spokesperson Wang Wenbin said Thursday that the warring parties needed to 'accumulate mutual trust' for progress to be made.
China, while claiming neutrality in the conflict, has made no demand on Russia to withdraw its troops from Ukraine. Zelenskyy has called for the restoration of his country's territorial integrity, the withdrawal of Russian forces, and holding Russian President Vladimir Putin legally accountable for the February 2022 invasion.
A man plants sunflowers in his garden near a damaged Russian tank and its turret in the village of Velyka Dymerka, Kyiv region, Ukraine, May 17, 2023.
Global diplomacy
Group of Seven leaders convening in Hiroshima, Japan, for meetings that start Friday are set to engage with Zelenskyy, the White House said.
'We are anticipating some kind of engagement between G-7 leaders and President Zelenskyy,' national security adviser Jake Sullivan told reporters aboard Air Force One on the way to Anchorage, Alaska, en route to Japan. 'The parameters of that are still being worked through.'
More than a year after Russia invaded Ukraine, the G-7 meeting will focus on supporting Kyiv's defense and ratcheting up economic pressure on Russia. Sullivan said the summit will focus on sanctions implementation and enforcement, shutting down evasion networks and closing loopholes.
'The U.S. will have a package of sanctions associated with a G-7 statement that will center on this enforcement issue,' he said.
VOA's Patsy Widakuswara and Mykhailo Komadovsky contributed to this report from Hiroshima. Some information for this story came from The Associated Press, Agence France-Presse and Reuters.