Seoul - At first glance, it may seem strange that China expressed displeasure with South Korea's Indo-Pacific Strategy, which outlines the foreign policy vision of South Korean President Yoon Suk Yeol.
After all, the 42-page document does not directly criticize China. In fact, it hardly makes any explicit references to China at all, except to call it a "key partner for achieving prosperity and peace."
And yet, asked about the Indo-Pacific Strategy a day after its publication in late December, a Chinese foreign ministry spokesperson responded tersely, warning against the formation of "exclusive cliques."
A closer examination helps explain why. The paper was filled with what were widely seen as indirect criticisms of Beijing, which has become more authoritarian at home and more aggressive with its neighbors.
For example, the document condemned the use of force and coercion. It supported the preservation of a "rules-based international order" built on democracy, the rule of law, and human rights.
Perhaps most importantly, for the first time in an official South Korean policy document, the Indo-Pacific Strategy linked Taiwan's fate to that of South Korea and the wider region - contradicting China's claim that the issue is purely a domestic matter.
The incident exemplifies how Yoon has more explicitly aligned his country with the United States and become bolder about confronting China. Though carefully calibrated, analysts say Yoon's moves leave little question about his approach to the great power rivalry between Washington and Beijing.
Confronting Beijing
It's not hard to find evidence of this shift under Yoon, a conservative who took office last year.
The most blatant recent example came in April, when Yoon condemned "attempts to change the status quo by force" in Taiwan - an apparent reference to China's increased military threats against the self-ruled island. The issue, Yoon added, was of global importance.
After China's foreign ministry scolded Yoon over the comments, Seoul pushed back, summoning the Chinese ambassador, blasting Beijing's criticism as "unspeakable," and lodging a complaint with Chinese state media for their "unfounded" disparagement of Yoon.
China has also watched Yoon restore relations with historical rival Japan, paving the way for both countries to cooperate more closely with the United States on shared threats.
US-led initiatives
Under Yoon, South Korea has also participated in a broad range of multilateral groups focused on countering China.
Most recently, Yoon attended the G7 gathering of advanced democracies in Japan, which resulted in the group's strongest ever statement targeting China.
Not all of this is new. It was under Yoon's liberal predecessor, Moon Jae-in, that South Korea first participated in meetings of the G7, as well as NATO, the Quad, and the U.S.-led Summit for Democracies.
But Yoon has gone further, joining the Indo-Pacific Economic Framework, which is meant to provide a counterweight against China's economic clout, and Partners in the Blue Pacific, which is seen as an attempt to blunt China's influence in the Pacific Islands.
Given these trends, it is apparent South Korea no longer seeks a middle ground between the United States and China, insists Ramon Pacheco Pardo, a Korea specialist at King's College London.
"In my view, there hasn't been a big change in policy. But I think Yoon is being more open than Moon about what he's doing with regards to China," Pacheco Pardo said.
Values-led solidarity
Asked why South Korea participates in so many U.S.-led regional initiatives, South Korean Deputy Foreign Minister Choi Young-sam responded saying Seoul is also open to more participation with Beijing.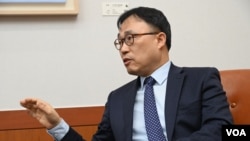 South Korean Deputy Foreign Minister Choi Young-sam speaks to VOA at his office at the Ministry of Foreign Affairs in Seoul, May 23, 2023. (Kim Hyungjin/VOA).
"[This is] not just U.S.-led regional cooperation or solidarity. It is universal values-led international solidarity," Choi said. "We are not just working with the U.S. because it is the U.S., [but] because it is good for freedom and peace and prosperity ... we welcome China's much more active participation in this international effort."
Choi spoke to VOA as he made final preparations to host leaders from 17 Pacific Island countries at the first ever Korea-Pacific Islands Summit.
A joint statement following the summit, held last week, emphasized the importance of "shared universal values," which Choi insisted form the basis of Seoul's foreign policy.
"Without any kind of initiative or right direction, we don't know where to go ultimately," he said. "Universal values are the direction we must head for."
Preserving its autonomy
Despite Yoon's criticism of China, areas of difference appear to remain between South Korea and the United States.
For instance, it is not certain South Korea would fight with its U.S. ally in any war over Taiwan. In an interview last year, Yoon said the U.S.-South Korea alliance should stay focused on North Korea even in the case of a Taiwan-related conflict, which he said Pyongyang may use to stage a provocation.
Under Yoon, South Korea has refused requests to directly send weapons to Ukraine, which is fighting a Russian invasion.
South Korea has also not joined every aspect of the U.S.-led economic pressure campaign on China - perhaps an unsurprising fact, since China remains South Korea's biggest trading partner.
Most notably, South Korea has not imposed restrictions on its lucrative export of semiconductors to China, despite U.S. pressure. The likely reason: South Korea sent 55% of its semiconductor exports to China last year, according to official figures cited last week by Business Korea.
China pushing back
With the South Korean economy so dependent on China, Seoul remains susceptible to coercion by Beijing.
There are growing signs China may use that leverage, as it has in the recent past. In 2017, China began a painful campaign of economic retaliation against South Korean businesses following Seoul's installation of a U.S. missile defense system that Beijing viewed as a threat.
Late last month, China appeared to block mainland access to the website of Naver, South Korea's do-everything web portal. In addition, a growing number of Chinese state media editorials have targeted Yoon.
If the Chinese pushback intensifies, Yoon's current approach will be much more difficult, predicts Jeffrey Robertson, a professor at Seoul's Yonsei University.
In Robertson's view, South Korea's relationship toward the United States and China can be compared to a swinging pendulum.
At the middle point of that pendulum swing, he says, is South Korea's close security ties with the United States and economic ties with China.
"And those two will not change unless something drastic occurs," he said.
Lee Juhyun contributed to this story.