TBILISI - Koshini's rooftop bar serves up local wine and a stunning view of Tbilisi, bathed, one recent evening, in a rosy sunset. The clientele sipping cocktails are not hip young locals, but Russians.
"People here see the difference between the Russian government and its people," says 30-year-old Aleksabd Klabukov from Saint Petersburg, who arrived here shortly after his country's forces invaded Ukraine.
Koshini bar is a hub for Russian expats in Georgia's capital. (Lisa Bryant/VOA)
"I didn't agree with the war," Klabukov says, adding, "I feel welcome here."
Anti-Russian graffiti blanketing Tbilisi's streets tells a more complicated story between the two countries and their peoples. Georgians have given the recent influx of Russians like Klabukov a mixed welcome, mirroring the country's fractured overall view of Russia.
Warming ties between the ruling Georgian Dream party and Moscow sharply contrast with staunchly pro-Ukraine sentiments on the streets. Even as Georgia's government claims joining the European Union and NATO are still firmly in its crosshairs - goals strongly endorsed by most Georgians-it is increasing economic ties with Russia. And analysts and critics say, drifting steadily from its EU dreams.
"We are under enormous pressure, and under a big, big, risk of being attacked," says Georgian Dream lawmaker Nikoloz Samkharadze, explaining his party's "pragmatic" stance towards its powerful neighbor. "Therefore, we have to walk a very fine line."
The party's myriad critics see things differently. A number also suggest Georgian Dream founder, former Prime Minister Bidzina Ivanishvili - who made much of his fortune in Russia - is orchestrating the country's alleged tilt towards Moscow. The party adamantly denies any involvement by Ivanishvili, who formally left politics in 2021.
Opposition lawmaker Giorgi Vashadze accusing Georgia's ruling party of being pro-Russian. (Lisa Bryant/VOA)
"The Georgian government has chosen the Russian side," says Giorgi Vashadze, chairman of the opposition Strategy Builder party. "Publicly Georgian Dream says they're pro-Western. But their actions are anti-Western and pro-Russian."
Rooting for Ukraine
Russia's footprint is evident on a windy bluff 100 kilometers from the capital, where EU monitors help to maintain stability. Below, a Russian supply truck is wending its way down a curvy road to Khurvaleti village, cut in half by an earlier Kremlin invasion.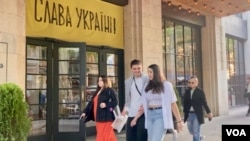 A pro-Ukraine slogan in Georgia's capital. (Lisa Bryant/VOA)
That was in 2008, when Georgia fought and lost a brief war that severed diplomatic relations with Russia. Today, 20% of Georgia, including half of Khurvaleti, is controlled by Moscow-backed separatists.
Georgian Dream's Samkharadze was a teenager during the war. "As a generation that grew up with that, we feel a responsibility to avert any similar scenario," he says, explaining his party's careful stance towards Moscow.
Kids returning home from school in Tserovani IDP settlement. (Lisa Bryant/VOA)
But in Tserovani settlement, sheltering thousands of Georgians displaced by that conflict, Nana Chkareuli from South Ossetia draws a different conclusion. She still dreams her breakaway region will eventually return to the Georgian fold. But not thanks to Russia.
"Every day, we are supporting Ukraine and watching what's happening," Chkareuli says. "If Ukraine wins, we will have more chance. If not, we will have no chance."
EU monitors overlooking Khurvaleti village, half of which is in the breakaway region of South Ossetia. (Lisa Bryant/VOA)
A number of Russians here are also rooting for Kyiv. An estimated 100,000 have flocked to Georgia since the Ukraine war, for business or political reasons. Others came years earlier, seeing the country as a safe haven against an increasingly repressive Kremlin.
Russian exiles Egor Kuroptev and wife, Russian activist Anastasia Burakova, at their home in Tibilisi. (Lisa Bryant/VOA)
"Georgia is the center of the political exile community," says Egor Kuroptev, who arrived in Tbilisi nearly a decade ago. Today, he heads the South Caucuses office of the Free Russia Foundation, which supports Russian political exiles.
Like Klabukov of Koshini's bar, he says Georgians have largely treated them well - although relations frayed earlier last year.
When Russian exiles began joining anti-war demonstrations in Tbilisi, things got better, Kuroptev says.
"Georgians saw they weren't monsters," he says of the Russian newcomers."They were normal."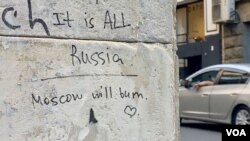 Anti-Russia graffiti in Tbilisi. (Lisa Bryant/VOA)
That sentiment isn't universal. Graffiti daubed on Tbilisi's walls and sidewalks calls on Russians to leave, and reserves colorful expletives for their leader, Valdimir Putin. While the Russian newcomers have injected millions into Georgia's economy, they have also driven up prices, feeding local resentment. In the Black Sea resort of Batumi, luxury high-rises advertise apartment sales in Russian.
"Many of the Russians here are pro-Putin," claims Irkali Mirianashvili, an IT specialist in Tbilisi, airing one popular suspicion. "If there are many of them here, it will be dangerous for Georgia. We are a little country."
Profiting from the war
Since invading Ukraine, Russia has become one of Georgia's top trading partners. A February report by Transparency International Georgia says the country earned $3.6 billion last year from Russia through remittances, tourist and exports -three times more than in 2021.
A for-sale sign in Russian in Georgia's seaside resort of Batumi. (Lisa Bryant/VOA)
Popular sentiment however trends towards disengagement. A September survey by U.S. nonprofit the International Republican Institute, found most Georgians consider Russia their country's biggest political and economic threat. Roughly half are suspicious of Tbilisi's warming relations with Moscow. By contrast, polls show massive support for joining the EU.
Last year, the EU granted candidate status to Ukraine and Moldova, but not Georgia - setting instead a dozen conditions for the government to meet. Brussels is set to reassess Georgia's progress by this year's end. Observers doubt Tbilisi's claims it has fulfilled most of the conditions. Recent events instead suggest Georgia may be moving in the opposite direction.
Thousands Rally in Georgia's Tbilisi Against Government
In March, thousands of Georgians protested legislation requiring media and nongovernmental groups to register as so-called "agents of foreign influence" if 20% or more of their funds came from foreign sources. The government ultimately dropped the bill, which critics say echoed Russia's ongoing measures to crack down on civil society.
More protests greeted last month's resumption of direct flights from Moscow to Tbilisi. Georgian Dream's Samkharadze says Moscow intended "to break" Georgia's EU candidacy chances with it. He did not explain, however, why Tbilisi agreed to the flights which, as expected, drew EU criticism.
"All they care about is staying in power," George Melashvili, head of the nongovernmental group the Europe-Georgian Institute, says of the ruling party, which nonetheless remains more popular than the fractured opposition. "They will do literally anything to sustain the power grip they have on the country - including attempting to keep good relations with Russia."
Irakli Porchkhidze, vice-president of the Tbilisi-based Georgian Institute for Strategic Studies, similarly describes the ruling party as in "stay-in-power mode."
"Their heart is not with Ukraine, and that can be a strategic blunder," he says of Georgian Dream. That will be especially so if Western-backed Kyiv wins the war.