Washington - The United States is enhancing engagement with China as it sees the potential for miscalculation with its top competitor growing, U.S. officials said.
The U.S. State Department announced Wednesday that Secretary of State Antony Blinken would travel to Beijing this week.
During the trip, Blinken is expected to meet with senior Chinese officials, including Foreign Minister Qin Gang, the department said.
The trip is seen as part of the Biden administration's effort to mend ties with Beijing after a series of diplomatic clashes between the two countries.
'We're coming to Beijing with a realistic, confident approach and a sincere desire to manage our competition in the most responsible way possible,' said Daniel Kritenbrink, assistant secretary of state for East Asian and Pacific affairs, in a phone briefing with reporters on Wednesday.
In the phone briefing, Kurt Campbell, deputy assistant to President Joe Biden and coordinator for Indo-Pacific affairs at the National Security Council, said, 'Now is precisely the time for intense diplomacy.'
Campbell last week called for maintaining 'appropriate diplomacy' with Beijing, saying the potential for miscalculation with China is growing.
He made the remarks at an event hosted by the Washington-based Hudson Institute.


US Lawmakers Discuss Expectations for Blinken Trip to China
Blinken on Tuesday called for 'maintaining open lines of communication' with China to avoid 'miscalculation and conflict' during his phone call with Qin, according to a readout of the call from the State Department.
Qin called on the U.S. to respect 'China's core concerns' and 'stop interfering in China's internal affairs, and stop harming China's sovereignty, security and development interests in the name of competition,' according to a readout of the call delivered by Chinese Foreign Ministry spokesperson Wang Wenbin.
U.S. Secretary of State Antony Blinken speaks at a chiefs of mission reception in the East Room of the White House in Washington, June 13, 2023. Blinken and Chinese Foreign Minister Qin Gang shared concerns on a phone call, June 14, 2023, ahead of a planned visit by the U.S. official to China meant to shore up relations.
Analysts say the likelihood of a breakthrough on key bilateral issues remains low during the trip.
'The best that this visit can accomplish is to establish a floor under bilateral relations and pave the way for other Cabinet-level interactions,' said Dennis Wilder, former National Security Council director for China.
'True stability in relations will prove elusive because of the high degree of distrust and the intractable nature of such issues as Taiwan and U.S. restrictions on high-technology exports to China,' added Wilder, who is now a senior fellow at the Initiative for U.S.-China Dialogue on Global Issues at Georgetown University.
'Talking is important even when there are no breakthroughs,' said Patrick Cronin, the Asia-Pacific security chair at the Hudson Institute.
Cronin said both sides may see some progress on Ukraine, trade and climate change.
'Driven by the mutual desire for diplomatic high ground when the leaders meet at a summit later this year, I think Secretary Blinken will be able to find some areas of common interest. A peaceful end to war in Ukraine, initiating a dialogue on AI, trade and climate change are all possible,' Cronin said.
Blinken's visit to Beijing was agreed upon by Biden and Chinese President Xi Jinping when they met in Bali, Indonesia, in November 2022.
That meeting did not provide a breakthrough, but it was seen as an important step in stabilizing relations between the two countries.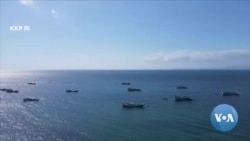 Embed share Indonesia Ignores China Protest in South China Sea Embed share The code has been copied to your clipboard. width px height px
No media source currently available
But tensions escalated as the two sides clashed over hot-button issues including Taiwan and Ukraine.
In February, Blinken canceled his trip to Beijing after a suspected Chinese spy balloon breached U.S. airspace.
Since then, the U.S. has made steady efforts to resume dialogue with Beijing despite tensions.
In recent weeks, there have been high-level talks between the two sides, a possible thaw in the bilateral ties.
Last week, Kritenbrink and Sarah Beran, the National Security Council senior director for China, traveled to Beijing to meet Ma Zhaoxu, the deputy foreign minister, and Yang Tao, the director of the North American and Oceanian affairs department.
VOA's Christy Lee contributed to this report.