GENEVA - HIV/AIDS can end as a public health threat by 2030 if nations can muster the political will and critical financial support to completely defeat it, a new report published Thursday says. The deadly disease has killed 40.4 million people since the start of the epidemic in 1981.
'The data in this report show that the path that ends AIDS is not a mystery, but it is a choice. It is a political and a financial choice,' said Winnie Byanyima, executive director of UNAIDS.
'The report shows that HIV responses can succeed when they are anchored in strong political leadership,' she said.
The report released by UNAIDS, the United Nations AIDS program, finds that in 2022, 39 million people worldwide were living with HIV, 1.3 million became newly infected and 630,000 died from AIDS-related illnesses.
While new infections have been declining globally over the past 10 to 12 years, rates remain high in several regions. Data show that two-thirds of all people living with HIV are found in sub-Saharan Africa, the hardest-hit region in the world. Other heavily infected regions include Asia and the Pacific, Latin America and the Caribbean, as well as Eastern Europe and Central Asia.
The report says women and girls are still disproportionately affected, particularly in sub-Saharan Africa.
'Every single week, 4,000 adolescent girls and young women were newly infected with HIV globally; 3,100 of those are from sub-Saharan Africa. It is a sub-Saharan crisis,' Byanyima said.
FILE - A patient, right, is attended to, at the U.S.-sponsored Themba Lethu, HIV/AIDS Clinic at the Helen Joseph hospital in Johannesburg, South Africa, Nov. 15, 2012.
At the same time, she noted that eastern and southern Africa, the region with the highest burden of HIV, is also where resources have been well-deployed and have achieved positive results.
'We see that since 2010 to now, new infections have been reduced by 57 percent. It is the region with the sharpest decline in new infections,' she said.
She said that since 2000, millions of lives have been saved through antiretroviral therapy. The number of people receiving this life-saving treatment worldwide 'has risen four times since 2010 from 7.7 million to 29.8 million last year,' Byanyima said.
Another notable success has been in nearly doubling the number of pregnant and breast-feeding women living with HIV who were accessing antiretroviral treatment in 2022. Byanyima said that number has risen from 46% in 2010 to 82% last year.
'This has led to a reduction of 58 percent in new infections among children over the past 12 years,' she said.
Still, Byanyima noted that significant issues remain to be resolved before the prospect of ending AIDS can be realized. She said it is critical for governments to reach out to society's most vulnerable, marginalized groups, including men who have sex with men, sex workers, transgender women, drug users and prisoners.
'Tackling inequalities is key to making progress,' she said, noting that several countries, including Antigua and Barbuda, the Cook Islands, Barbados, Saint Kitts and Nevis and Singapore, have decriminalized same-sex relations.
'Unfortunately, Uganda, my country, took the opposite direction, and that is not positive,' she said, referring to the country's new anti-LGBTQ law that includes the death penalty.
She added that stigmatizing people serves to drive the infection underground where it can blossom and grow.
The report highlights several countries as diverse as Botswana and Cambodia, as well as Eswatini, Rwanda and Tanzania, that have made considerable progress toward ending HIV/AIDS.
Sheila Tiou, Botswana's former health minister and co-chair of the Global HIV Prevention Coalition, said the countries have succeeded in doing this 'by scaling up proven interventions, addressing inequalities, enabling communities, and investing in resources.'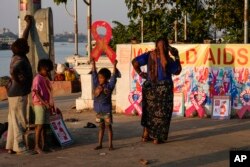 FILE - Street children play with red ribbon left on display by activists on the banks of the Hooghly River ahead of World AIDS Day in Kolkata, India, Nov. 30, 2022.
'We have already heard about countries that have succeeded, but countries like Cameroon, Nepal, Zimbabwe have achieved major reductions in new HIV infections thanks to focused and scaled-up comprehensive prevention programs,' she said.
But she underscored that inequalities and inequities are blocking quicker and wider access in protecting people against HIV.
'Doing the right things will drastically improve the health and well-being of societies, it will reduce HIV vulnerabilities, and indeed, it will avert new HIV infections,' she said.
Tiou said AIDS can be ended if world leaders are courageous, tackle stigma and discrimination, empower and work with communities, and invest in what is needed.
'The data is clear. The evidence is all there,' she said.
Byanyima echoed these sentiments, emphasizing the opportunity for successfully ending the epidemic is dependent upon action.
'The facts and figures shared in this report do not show that as a world, we are already on the path.'
However, she said they show that the world can get on the right path 'to save millions of lives and protect the health of everyone by putting a stop to the world's deadliest pandemic.'