New Delhi - Suresh Kumar's home collapsed on a night when torrential rains lashed Manjha village in India's mountain state of Himachal Pradesh two weeks ago.
"There was no power, only one solar light was burning. We took torches and saw that huge cracks had appeared in all the rooms. They kept widening," recalls Kumar. By the morning, my house had fallen."
Several other houses in the village were also buried - in his extended family alone, more than 20 people are now homeless.
Neighboring villages experienced similar devastation. It was a night of terror, recounts Mani Ram, a resident of Bachhwai village.
"We picked up small children and an old woman and fled down the hillside. We tried to rescue the animals stuck in the mud and debris," said Ram. "By the time we reached down, that land was also sinking. There was waist-deep water. We ran helter-skelter."
Mani Ram, a resident of Bachhwai village in India's Himachal Pradesh state, whose home collapsed after intense rains now lives in a temporary shelter.
Many of these villagers now are sheltered under tents. Some are trying to salvage whatever they can from the rubble of their broken homes. Many have lost most of their possessions.
They are among hundreds in big towns and small villages whose lives have been upended by landslides and flash floods that have ravaged this Himalayan region over the last two months in the wake of torrential monsoon rains. Scores of people have died. Buildings and houses have been reduced to rubble, including in the state capital, Shimla. Many roads are damaged.
Authorities in Himachal Pradesh state last week declared the havoc caused by rains a "state disaster." The losses add up to over a billion dollars.
A study published in the journal Nature in June said that rising temperatures are bringing more intense rain and less snow to mountain regions in the northern hemisphere. That can make these mountains more dangerous.
"The increase in extreme rainfall in mountainous regions is 15% for every one degree Celsius of warming and this is almost double of what we previously thought," Mohammed Ombadi, lead author of the study told VOA. "Rainfall unlike snowfall triggers floods more rapidly leading to a higher risk of flooding, landslides, soil erosion and other negative impacts."
Residents in these villages have experienced the shifts in climate firsthand in recent years. They say winter precipitation has moved to spring and spells of intense rain are now more frequent.
"The snowfall is irregular. It falls late and melts rapidly as summer comes. The water puts more pressure on the hills and then the monsoons bring more moisture," according to Cyril Chander, a geographer who lives in Kangra district in the region.
Buildings are seen collapsed following heavy rains in Mandi, Himachal Pradesh, India, Aug. 24, 2023.
The Himalayas, a young, fragile range, are more vulnerable because the rate of warming here is higher compared to several other mountain ranges.
This could be because of changing atmospheric and wind patterns in the region, according to Ombadi.
"Besides extreme rainfall, there is also a higher rate of melting glaciers and when you have these two processes acting together, they amplify the risk of flooding and landslides. So for these two reasons, the Himalayas are hotspots that are vulnerable to global warming and climate change impacts," he said.
Glaciers in the Hindu Kush and Himalayas mountains melted 65% faster in the 2010s compared with the previous decade according to another study published in June by the International Center for Integrated Mountain Development that highlights the risks these ranges face.
Besides the climate shift being brought by rising temperatures, the frenetic development that India's Himalayan states have witnessed in recent years to cater to an ever-growing number of tourists is also making the mountains unstable, according to environmentalists. Himachal Pradesh, a scenic state, attracted over 15 million visitors in 2022, according to government figures.
"One of the main reasons is deforestation and construction of buildings unscientifically without soil testing," according to Priyanka Kalia, an environmental scientist. "Cutting of slopes for expansion of roads for national highways also destabilizes the hillsides."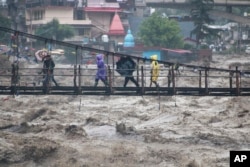 FILE - People walk through a bridge across River Beas swollen due to heavy rains in Kullu District, Himachal Pradesh, India, July 10, 2023.
Calls for sustainable development have become louder in the wake of the havoc witnessed this year.
But even if those calls are heeded, it will be too late for the villagers affected by the recent rains.
Some like social worker, Sansar Chand, are now arranging rations and other necessities such as shoes for those who lost most of their possessions. "It was nature's fury. We could not make out whether it was a cloudburst or whether the land sank. I have never seen something like this," said Chand.
Most of the affected villagers depend on small farming incomes. Now they say their lifetime savings have been swept away by the rains. For these families, the looming question is: where to relocate?
Even those whose homes escaped the devastation worry about the future as they fear the land where they have lived for generations has become unsafe. "I don't think this area is any longer habitable. There are cracks everywhere till the river. The land has sunk," said social worker Chand.
But with the devastation widespread, finding safe havens in the mountains may not be easy.