For millions of Soviet citizens, it was the only opportunity to see recently released foreign movies.
At the turn of the 1980s-1990s, somewhat unusual "cinemas" opened across the Soviet Union in the most unexpected places - in private apartments, basements, school gyms, at train and bus stations and even on buses and trains, planes and ships. Only, instead of a projector, they had an ordinary television set with a small screen connected to a videocassette recorder. And these "cinemas", known as "video salons", showed pirated foreign movies on VHS. And they came with a cheap, dubbed soundtrack, in which a single voice, usually male, translated the dialogue of all the protagonists with a slight delay!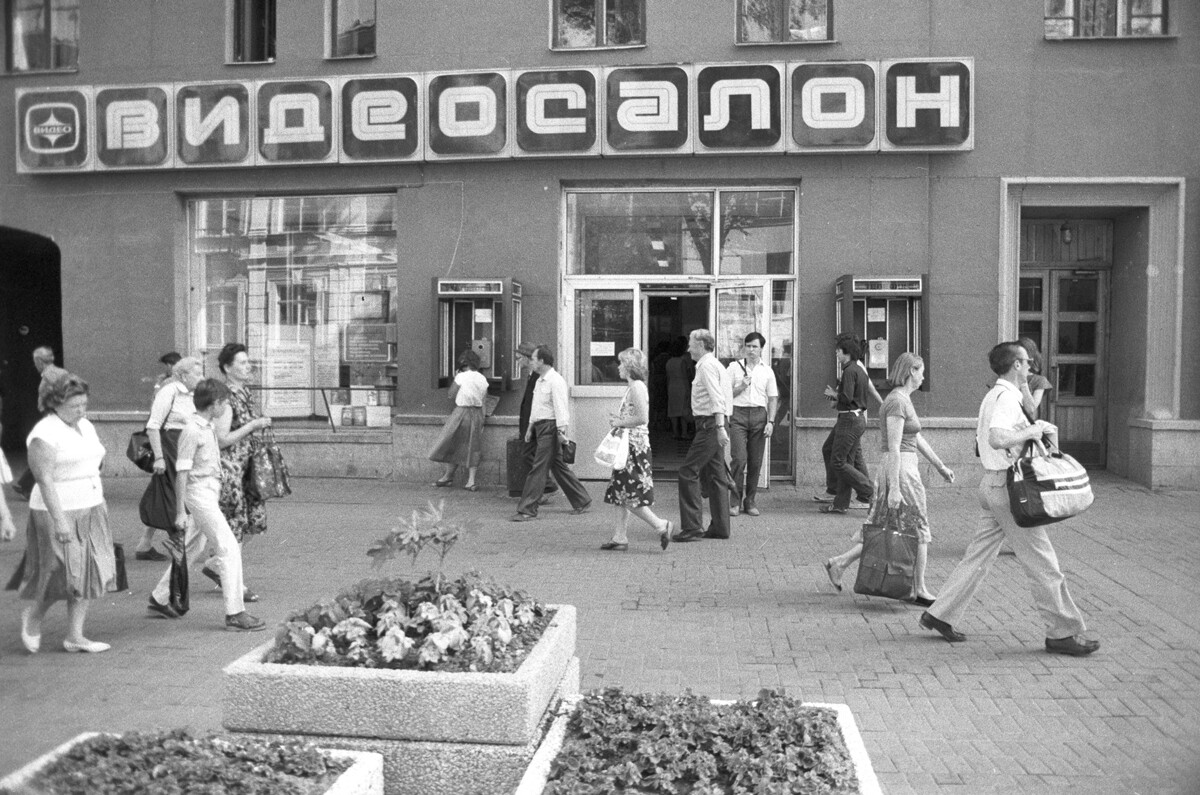 Entrance to a video salon on Arbat street, Moscow, 1986.
Ter-Mesropyan/Sputnik
Despite the appalling picture and sound quality, video salons enjoyed enormous popularity, which is not surprising - for millions of Soviet citizens, it was the only opportunity to watch recent foreign movie releases, ranging from '81⁄2' and 'The Godfather' to 'The Evil Dead' and action thrillers with actors like Arnold Schwarzenegger and Sylvester Stallone.
Video salons as small businesses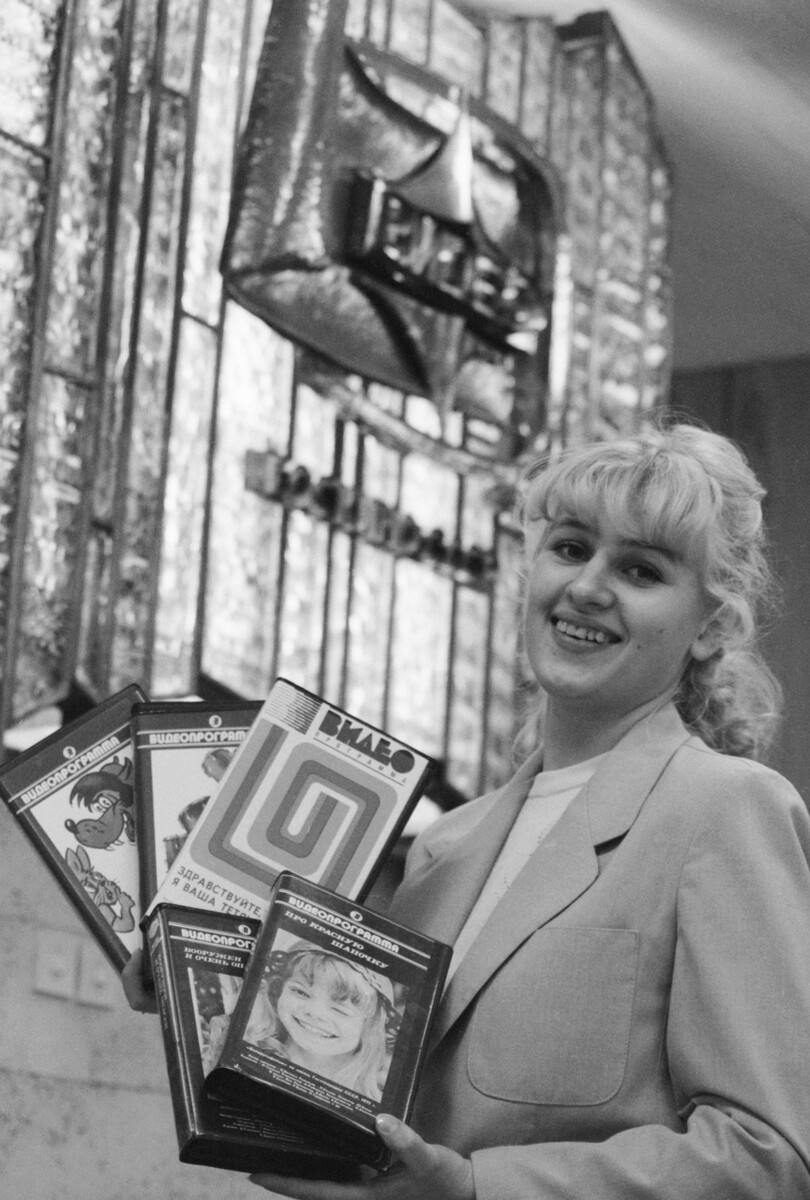 Moscow, video salon on Arbat, 1985.
A. Gurevich/TASS
The first Soviet video salons were opened absolutely legally - in video libraries, where you could rent video cassettes. The first video salon in Moscow opened in 1985 on Arbat Street on the premises of a former cinema. In addition to a 30-seat auditorium, it also had "individual booths" for 3-4 people, which were suitable for families and friends. Later, a mobile video salon based on the LiAZ-5917 suburban commuter bus was even designed.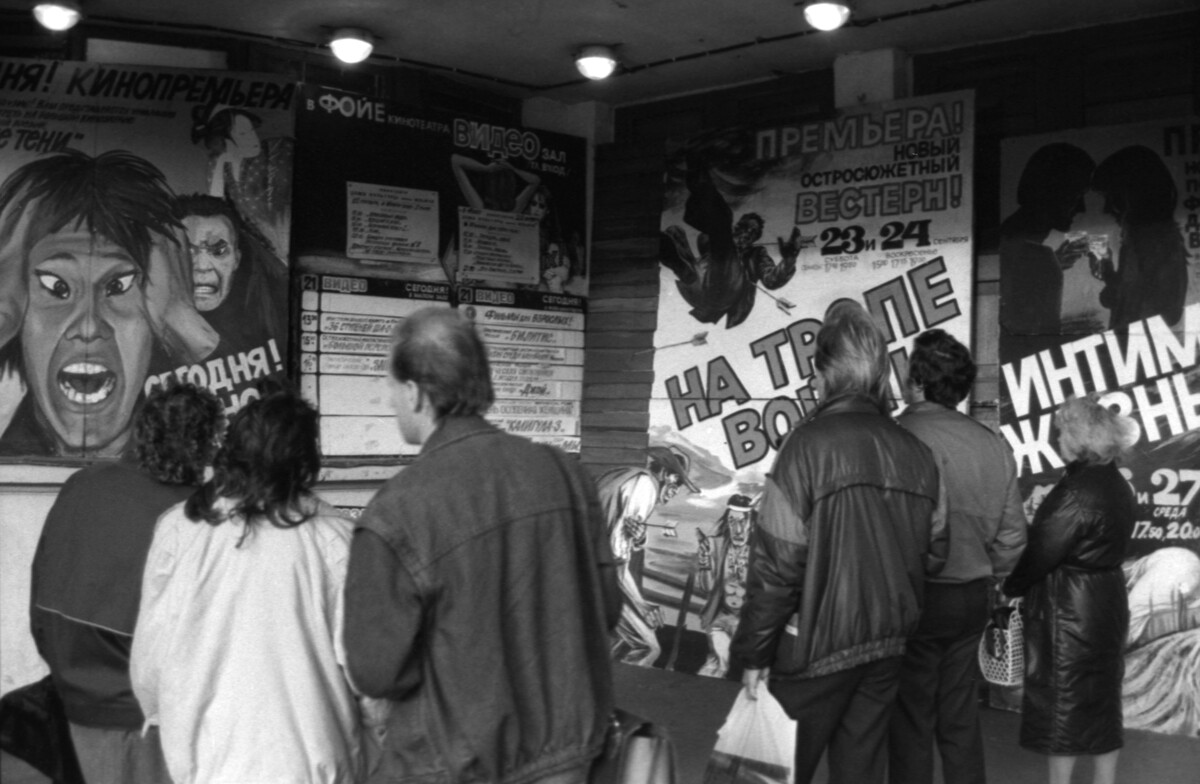 Posters at the entrance to a video salon in Leningrad, 1989.
Oleg Kuleshov/Sputnik
Official video libraries and video salons didn't enjoy much popularity, however. Home video recorders were still a rare luxury in those days and, moreover, only Soviet movies, already freely available on TV and in cinemas, could be rented from, or watched in, a video salon.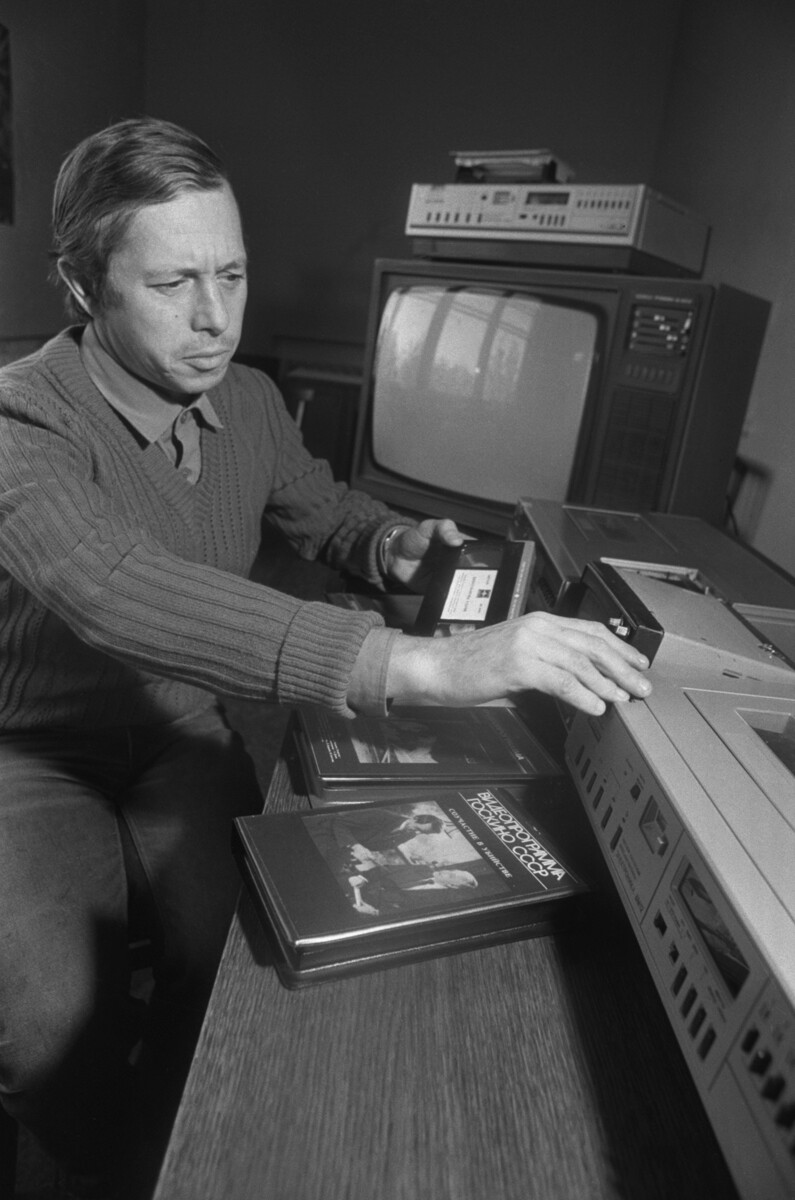 Video session preparation, city of Frunze, Kyrgyz SSR, 1986.
Vladimir Dotsenko/TASS
Everything changed with the start of perestroika, when private entrepreneurship was partly legalized in 1987. As experience showed, a video salon became an excellent form of small business. All that was needed was a venue, a few dozen chairs, a television set and, naturally, the most expensive asset - a video player. However, the demand was so great that the investment paid off in a matter of months, despite the poor film quality and expensive "tickets". An outing to a video salon cost more or less the same throughout the country, from Moscow to Vladivostok - one ruble, on average - while a cinema ticket cost between 10 and 50 kopecks. But, you couldn't watch Western action thrillers, horror films, erotic movies or comedies in a cinema.
A clothespin on their nose
As during prohibition in the U.S., feverish demand quickly gave rise to a clandestine industry. The latest offerings of the foreign video market were immediately brought into the USSR, where they were promptly translated by unofficial translators, copied in large numbers and distributed to video salons. The poor quality of the voiceovers gave rise to an urban legend: That the translators voiced the text with a clothespin on their nose, in order to prevent the KGB from using their voice to identify them.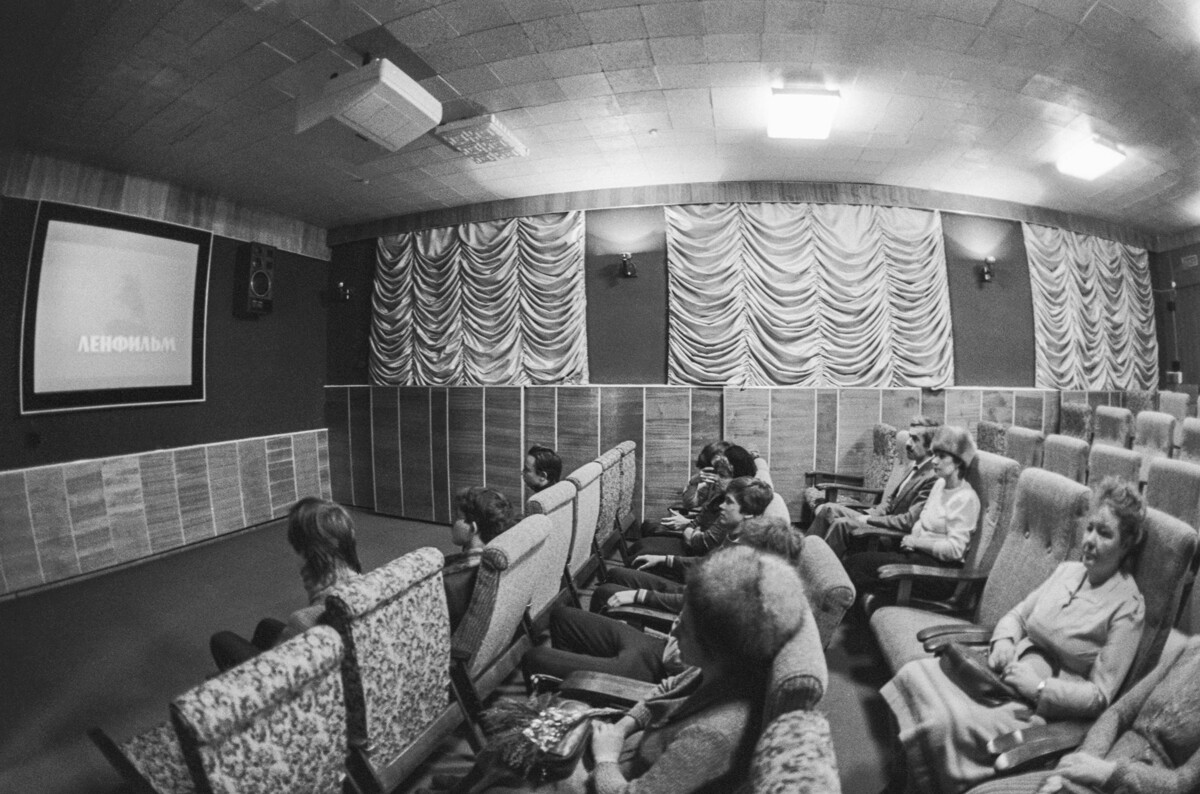 In a video salon, Chelyabinsk, 1988.
Boris Klipinitser/TASS
Subsequently, voiceover dubbing whereby the same person both translated and voiced all the parts, although born of necessity, itself became a cult. Some "star" translators of the video salon era, such as Yury Serbin or Andrei Gavrilov, still translate movies at the request of their fans today. They are admired not just for reasons of nostalgia or out of love for the familiar ring of their voices, but out of respect for the quality of their translation. The translators/dubbers introduced a large number of sayings into everyday Russian speech - in general, not very decent euphemisms. The phrase "Ublyudok, mat tvoyu" ("You bastard motherf**ker") from the American crime comedy 'Blood and Concrete' (1991) in the version voiced by Andrei Gavrilov, for instance, became a popular meme.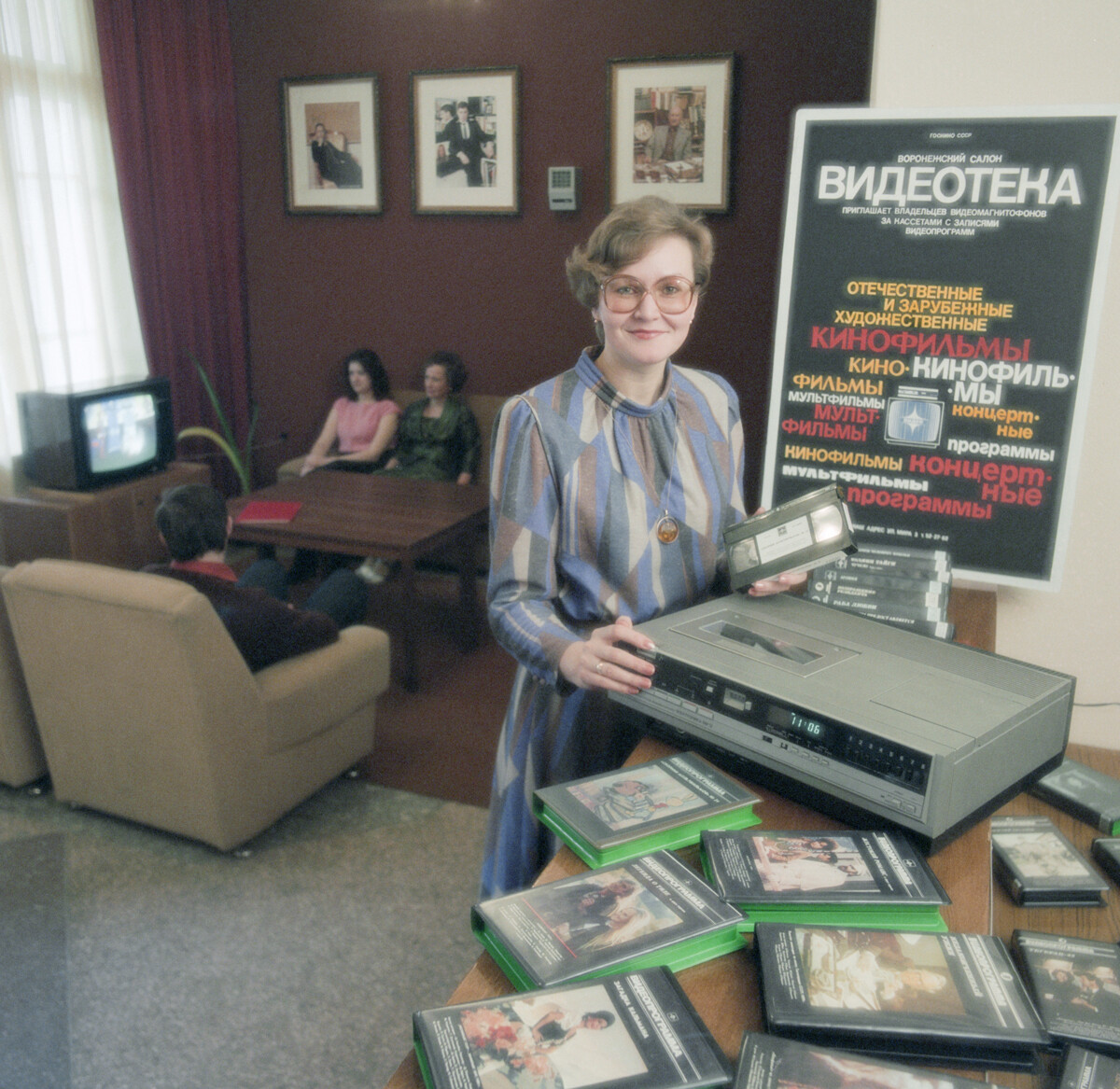 Methodist of the video salon Irina Mentshikova gives out videocassettes, 1988.
Boris Klipinitser/TASS
What is more, simultaneous translation also provided dubbers with an excellent training in cinema critique. For instance, Alexey Medvedev, one of the country's best film festival curators, who passed away recently, started off as a translator-cum-dubber. He selected the programming for two of Russia's top festivals - the Moscow International and 'Message to Man' (St. Petersburg).
Cult movies
The most popular movies of the Soviet video salon era were roughly the same as in the West: Francis Ford Coppola's 'The Godfather' (1972), James Cameron's 'The Terminator' (1984), 'Terminator 2' (1991) and 'Aliens' (1986), Ridley Scott's 'Alien' (1979), 'A Nightmare on Elm Street' (1984) and so on. But, there were also movies that only achieved cult status in the USSR and probably nowhere else - for instance, the low-budget comedy horror 'The Video Dead' (1987), which was not even given a theatrical release in the U.S., but went straight to video. In the Soviet Union, however, the movie was treated on a par with recognized horror classics such as 'The Evil Dead' (1981).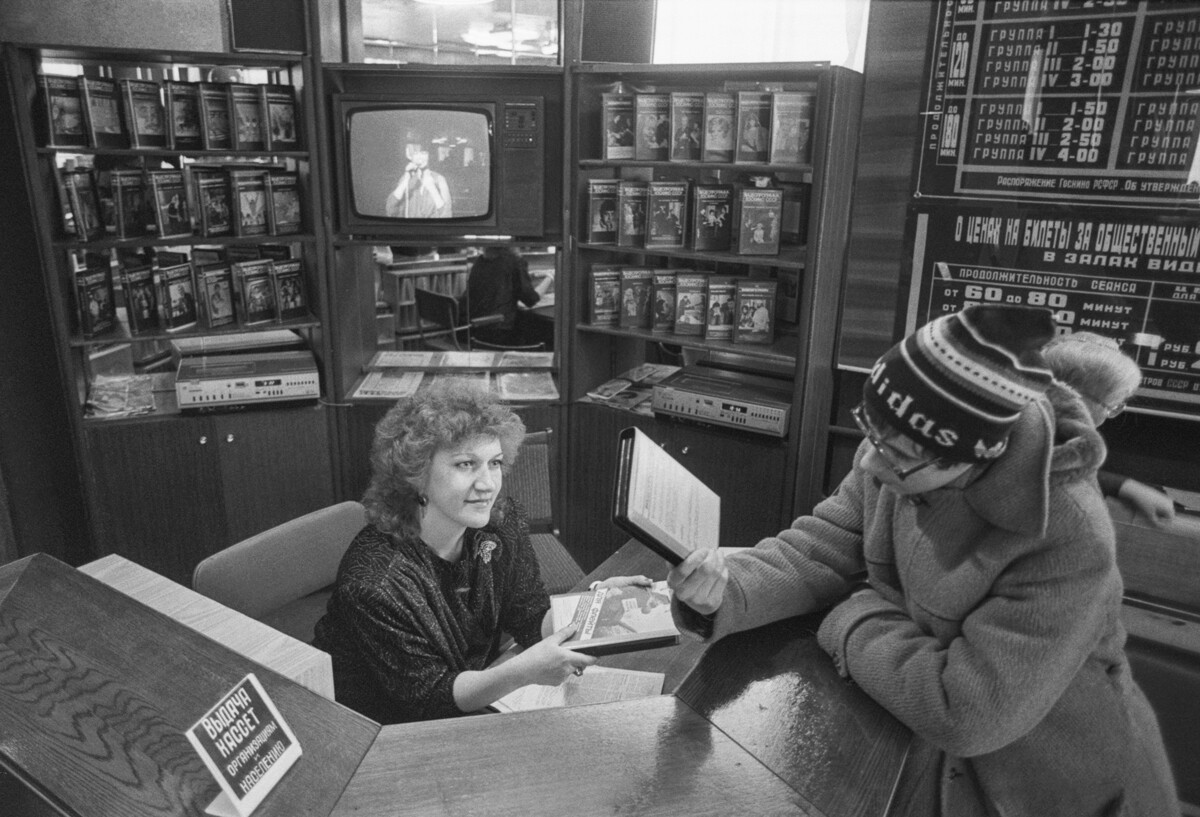 Video Library in Voronezh, 1986.
Igor Zotin, Vadim Kozhevnikov/TASS
The comedy franchise 'Police Academy' (1984-1994) with Steve Guttenberg and the action thriller 'Commando' (1985) with Arnold Schwarzenegger were popular in the West, but their success there was in no way comparable to their stupendous popularity in the post-Soviet space. Popular Russian actor Mikhail Porechenkov, as director, was subsequently to shoot an unofficial remake of 'Commando' titled 'D-Day' (2008). With himself in the lead role, naturally.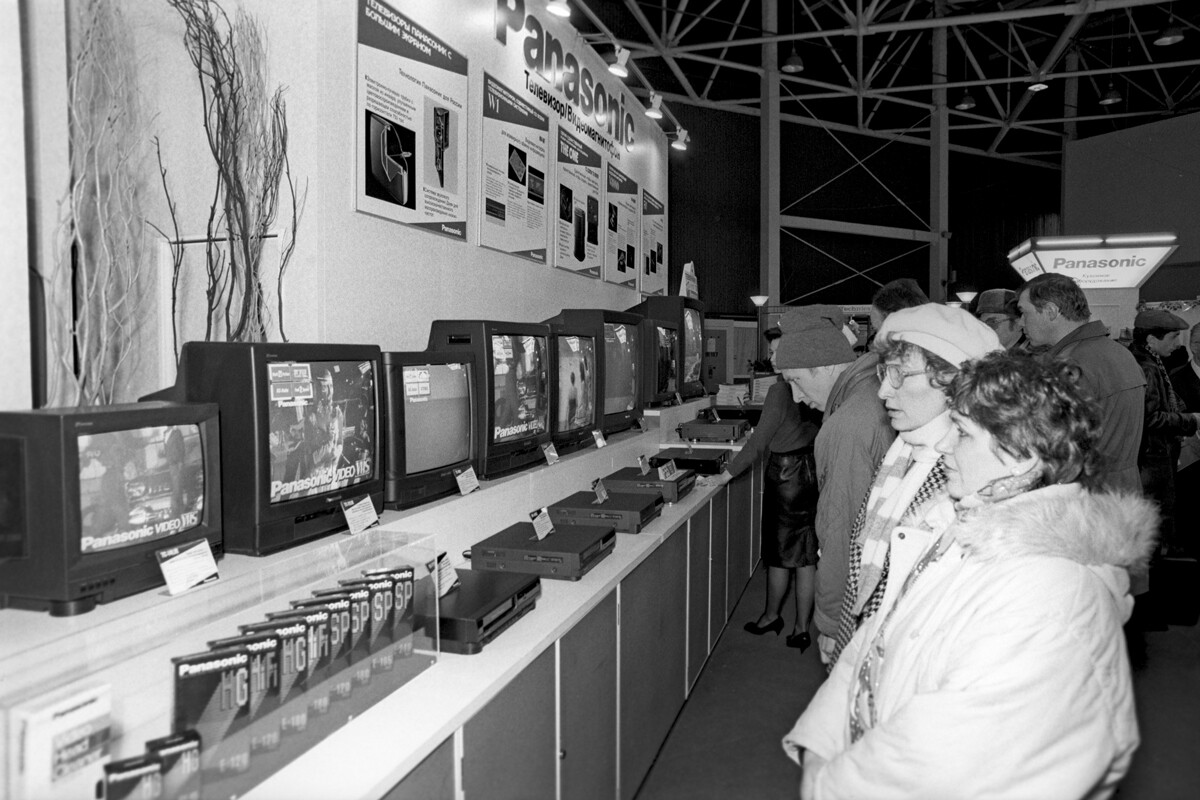 At the exhibition complex in Moscow.
Sergei Subbotin/Sputnik
The mass influx of Western movies in the late 1980s also left its mark on the Soviet cinema of those years. Yury Moroz's science fantasy thriller 'The Witches' Cave' ['Podzemelye Vedm'] directly quotes from 'Conan the Barbarian' (1983). The rock star Viktor Tsoi replicates Bruce Lee's martial arts moves in the urban Western 'The Needle' ['Igla'] (1988). The hero of Roman Kachanov's fantasy drama 'Freak' ['Urod'] (1993) - a "superhero" with ability to replicate everything he sees (played by Nikita Vysotsky, son of actor, poet and singer-songwriter Vladimir Vysotsky) - goes to a video salon and watches the cult scene in 'Commando', where Schwarzenegger carries a log on his shoulder, after which he turns into Schwarzenegger himself and beats his enemies to a pulp.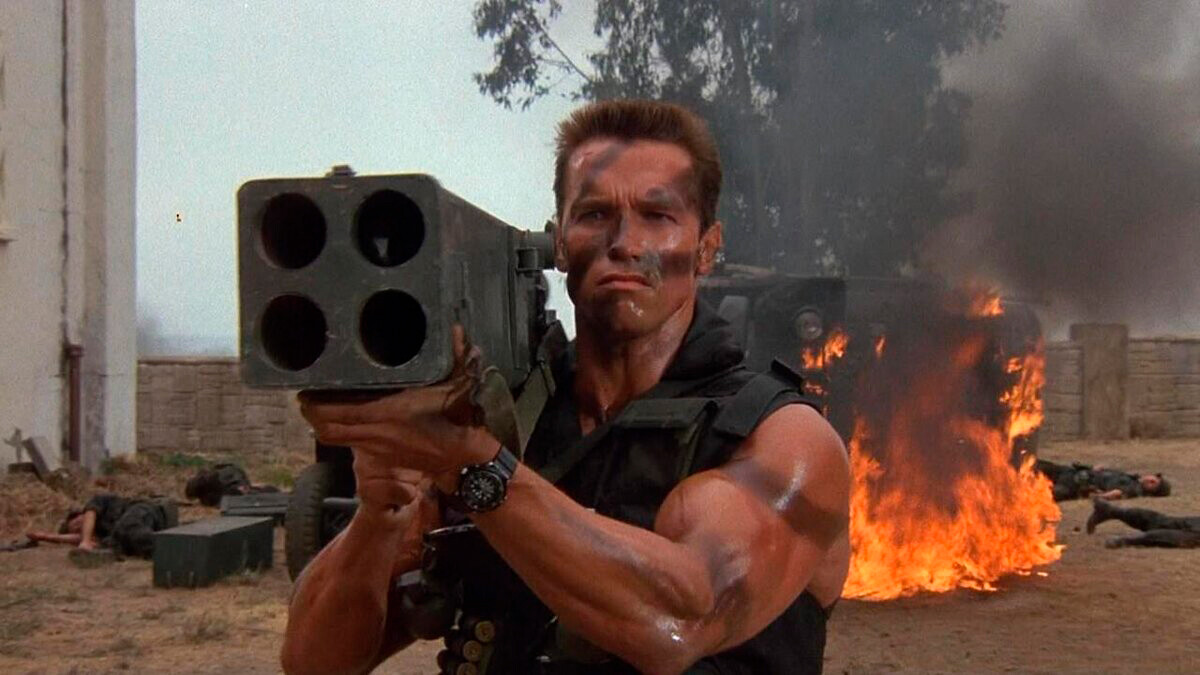 A scree from Commando movie.
20th Century Fox Film Corporation
In the early 1990s, video recorders became much cheaper and found their way into almost every home. The age of the video salon gave way to the age of video rental.
Dear readers,
Our website and social media accounts are under threat of being restricted or banned, due to the current circumstances. So, to keep up with our latest content, simply do the following:
Subscribe to our Telegram channel
Subscribe to our weekly email newsletter
Enable push notifications on our website
Install a VPN service on your computer and/or phone to have access to our website, even if it is blocked in your country