Seventy years ago, the idea didn't seem as absurd as today.
We know about such an ambitious project from the memoirs of Major-General Ivan Serov, who, in the early 1950s, was First Deputy Minister of Internal Affairs of the USSR.
According to him, in 1952, the Soviet leader held a series of meetings, where the prospects of draining the Caspian Sea for efficient mining were discussed.
In fact, the sheer idea did not seem crazy and fantastic at the time. Offshore mining was still in its infancy and the sea itself was a closed body of water with no direct connection to the world's oceans.
Related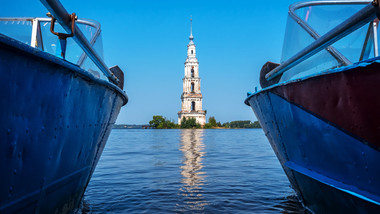 Why did the Soviet government flood old Russian towns and villages?
Serov himself was not present at these meetings, but he was told about them by Sergei Zhuk, head of the Hydraulic Engineering Design and Survey Department ('Gidroproekt'). It was him that the Soviet leader instructed to "prepare proposals and calculations on how and in what time frame the Caspian Sea could be drained".
During the discussions, Anastas Mikoyan, First Deputy Chairman of the USSR Council of Ministers, tried to object to the leader that the country would be deprived of black caviar, which it exported to the whole world for foreign currency. "You are reasoning from bargaining positions, we need oil," Stalin answered him sharply.
In the end, Zhuk presented his calculations to the court of the "Father of nations". According to them, it turned out that the diversion and distribution of rivers required the construction of a system of canals and dams. This process would take up to five years and would cost a gigantic sum of approx. 10 billion rubles.
However, even in this scenario, the sea would fill up from precipitation, which would still require further water pumping. Under these conditions, the complete draining of the bottom would only have been possible in 16-17 years.
"Comrade Stalin listened and said: 'Perhaps it is not worth it,'" Serov wrote. "And everyone supported him the same way they had when he said 'drain'!"