Custom cars were invented... in the USSR! In the Soviet Union, a car was not a means of transportation, but a luxury. It was not easy to save 4,500 rubles for a Moskvich or 5,000-6,000 for a Volga and then be put on a long waiting list to purchase one. However, those who could boast some mechanical savvy had another option: to build a car by themselves!
The first "custom-made" cars appeared in the USSR back in the 1920s-1930s, on the basis of a motorcycle engine. They didn't look very aesthetically pleasing and didn't reach high speeds. They truly flourished during the 1950s-1960s, when talented engineers and mechanics began building custom models from what they had on hand. First, their chassis had plywood bodies; then, they were made from metal and fiberglass and were fitted with mass produced car engines (or even custom-made ones). The hobby rapidly spread across the entire Soviet Union: magazines like 'Tekhnika - molodezhi' ('Technology for the Youth') and TV programs like 'Eto vy mozhete' ('You Can Do This') talked about the most successful models. One just needed to fit the official requirements: the engine of a custom car couldn't exceed a capacity of 900 cubic centimeters or reach speeds greater than 75 km/h.
There was little left after assembling a car: one only had to get the design approved with the Volunteer Car and Moto Enthusiasts Society commission, confirm that the engine or other components were obtained legally (for example, decommissioned as defective and repaired after) and apply for registration number plates. Only then could one hit the road!
'Trud' ('Labor')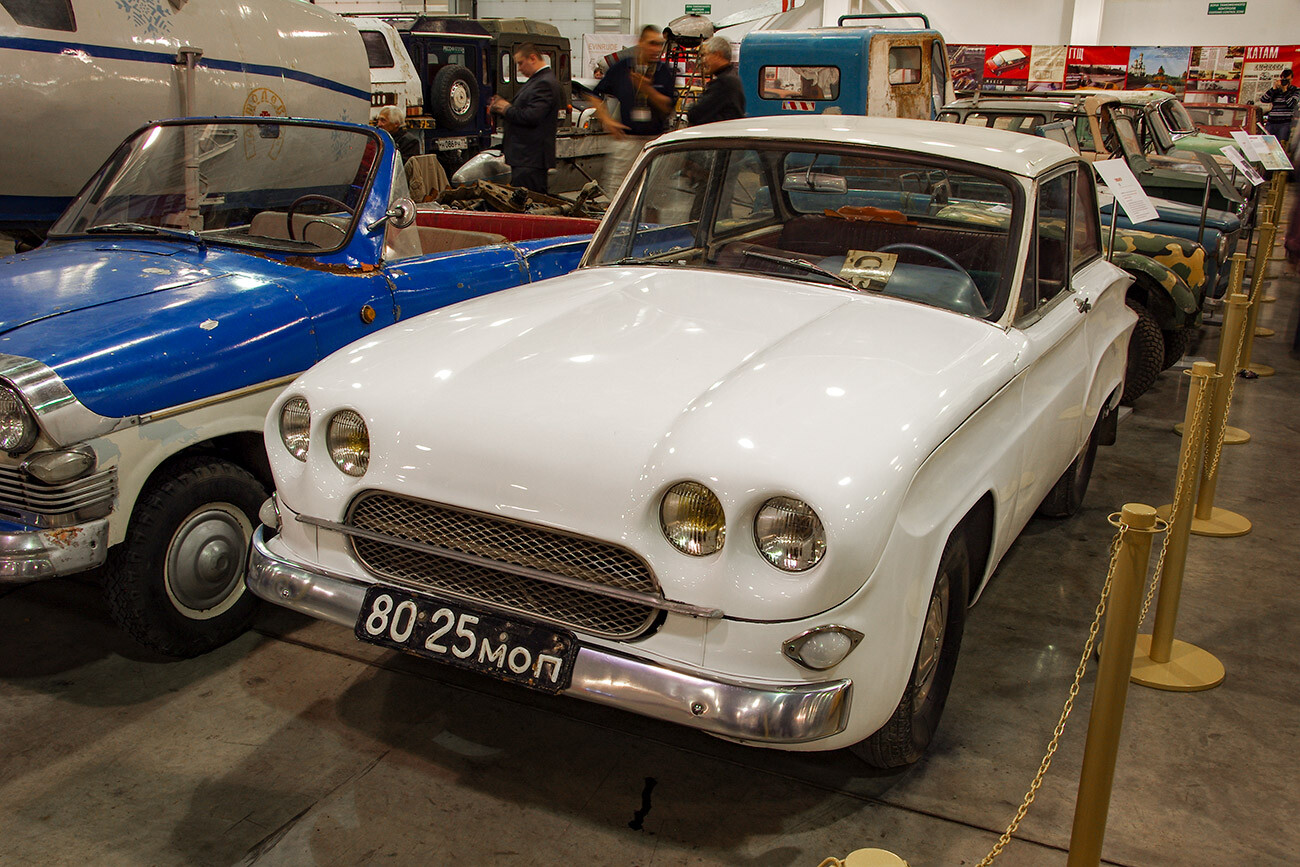 To assemble the body of this car, almost sixty metal plates were required, gathered in landfills, which were later cut, welded and shaped. But, it wouldn't be fair to call this model from the beginning of the 1960s a 'Frankenstein's monster' - there are no visible welding seams. When you look at it, you wouldn't even think it was built by the hands of an enthusiast and not assembled at a factory. That being said, almost everything in 'Trud' is unique. Its creator, Oleg Kucherenko, manufactured the parts by himself and built his own three-cylinder engine.
'GTSCH'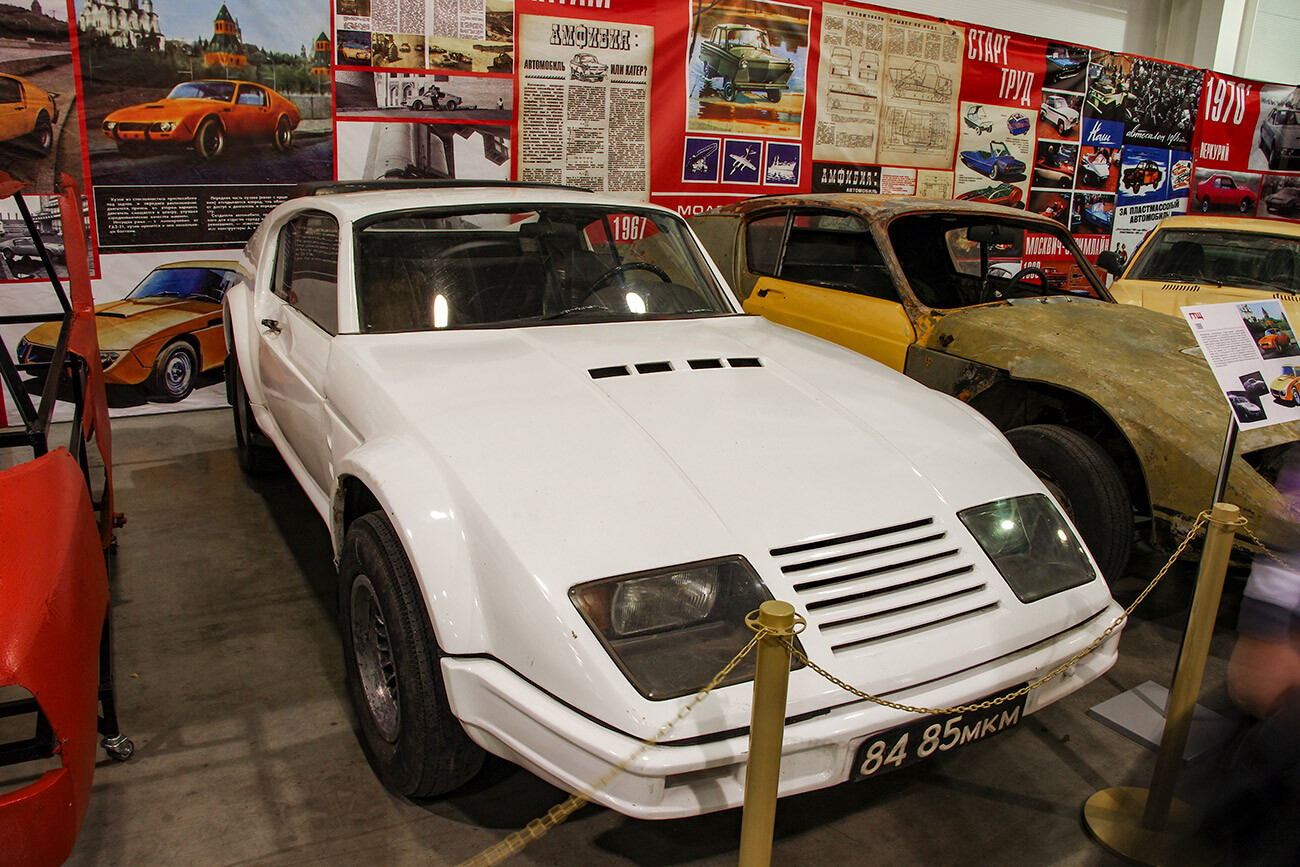 At the end of the 1960s, Anatoly and Vladimir Shcherbinins created their own variant of Gran Turismo - a sports car with a Volga engine. What's interesting is the brothers did not work on the car in a garage, as one might think. The chassis of 'GTSCH' was welded right in the yard of their apartment block and then it was taken to their apartment to "dress" in fiberglass body panels. Later, they eventually did move the car back to the yard, where they installed the engine and everything else. Despite the official requirements, Gran Turismo by the brothers Shcherbinin could reach speeds of up to 150 km/h. A custom-made car? Officially - yes. But, looking at the end result, it looks like a car from Hollywood car chases.
'Pangolina'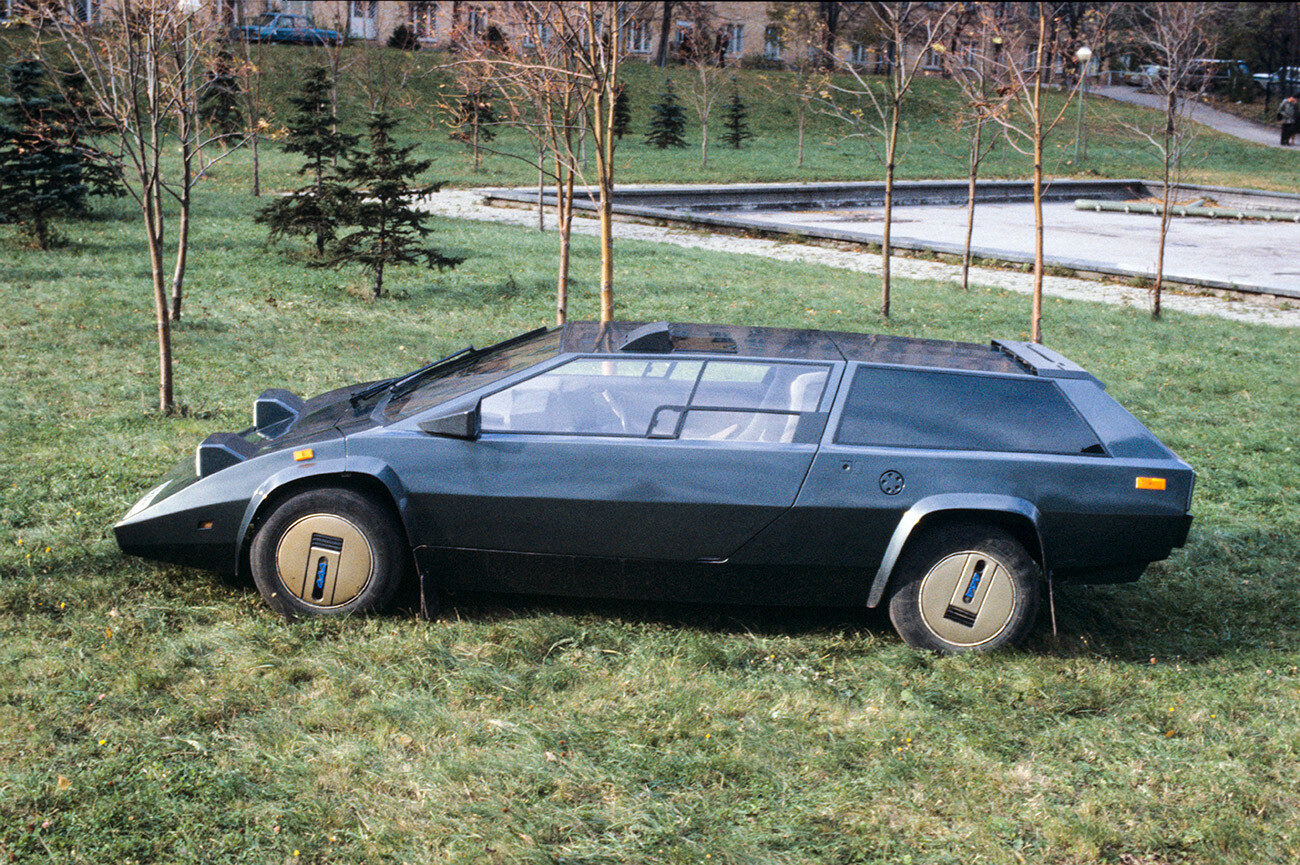 Kuleshov/Sputnik
What would happen if you combined the engine from a VAZ car and the "predatory" design of sports cars reminiscent of Lamborghini? You'd get Alexander Kulygin's 'Pangolina'. Alexander, head of the technician's club at the Palace of Youth in Ukhta developed a unique hood design, instead of regular doors, which was raised with a hydraulic drive. He replaced the rearview mirrors with a periscope; he moved the headlights to the center, putting them together into a separate retractable section. Thanks to its light fiberglass streamlined body, even with a 62-horsepower engine, the 'Pangolina' could reach a max speed of 180 km/h. This incredible car became famous even overseas - in 1985, it participated in a Car Expo in Bulgaria's Plovdiv.
'Triton'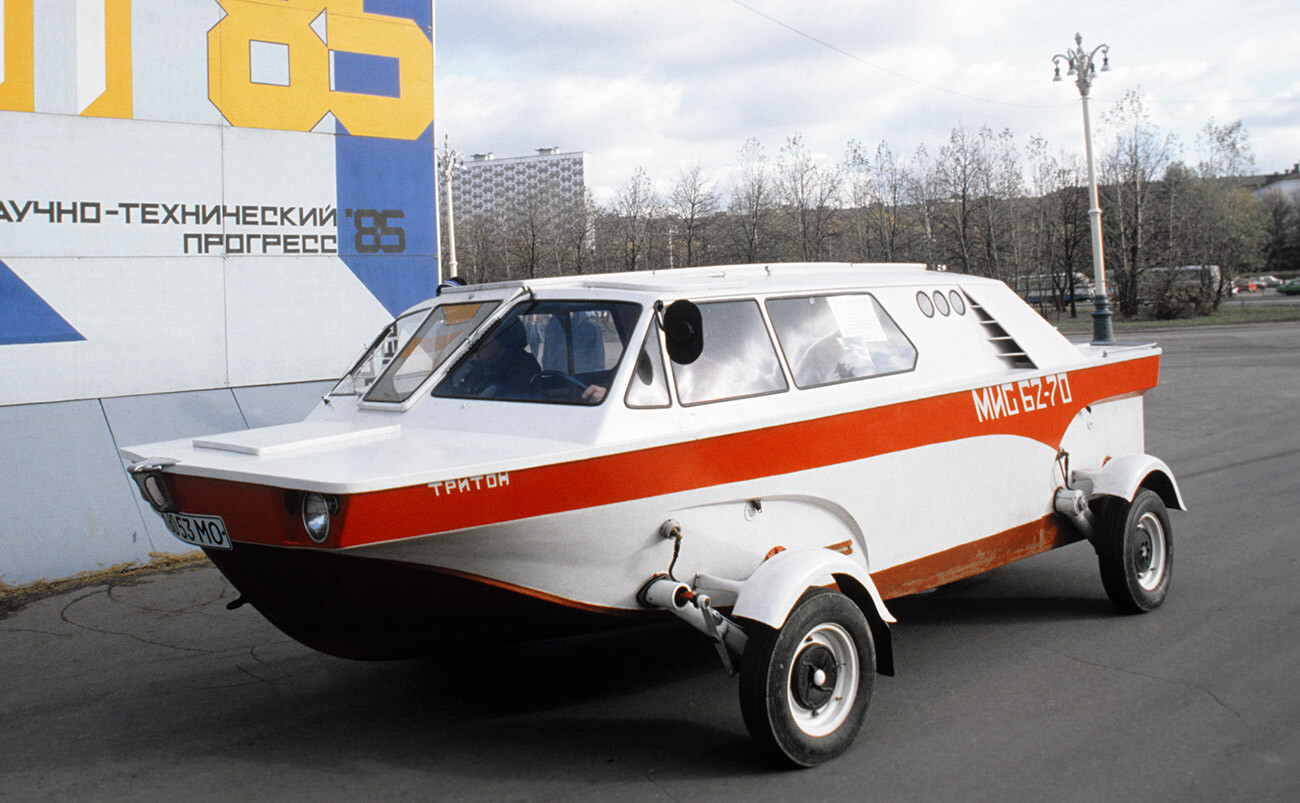 Victor Budan, Vitaliy Sozinov/TASS
Musician Dmitry Kudryachkov dreamed of uniting the advantages of a speedboat and a car in his custom-made vehicle. He wanted to be able to travel both by land and by water. As a result, he built a hydroplane, operating with a GAZ-21 engine. If you want to sail - the 'Triton' could cruise at 50 km/h; if you planned a car adventure - it could race you around at a speed up to 120 km/h.
'Laura'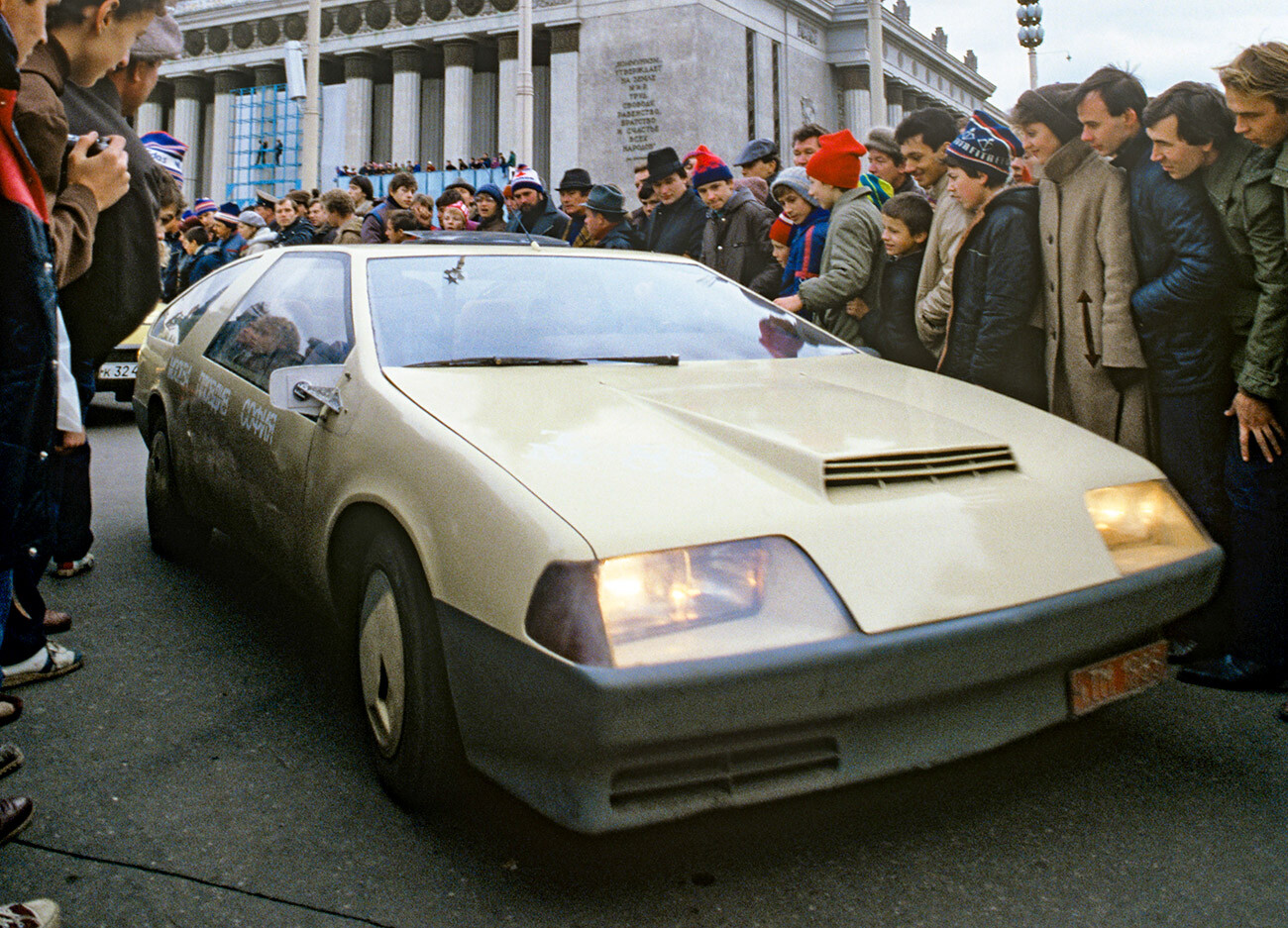 Igor Michalev/Sputnik
When the audience of the international exhibition in Bulgaria's Plovdiv saw Dmitry Parfyonov and Gennady Hainov's car, they couldn't believe their eyes. Was it really true that 'Laura' was custom made? The inventors say they came up with the designs of cars of the future back when they were in school; in 1985, they built a sports car with a VAZ-2105 engine and Zaporozhets' transmission. The frame was made out of water pipes and "dressed" in fiberglass and polymeric foam panels. Sports seats, button control, MacPherson-esque custom-made suspension - no doubt, a car from the future.
'Muravey' ('Ant')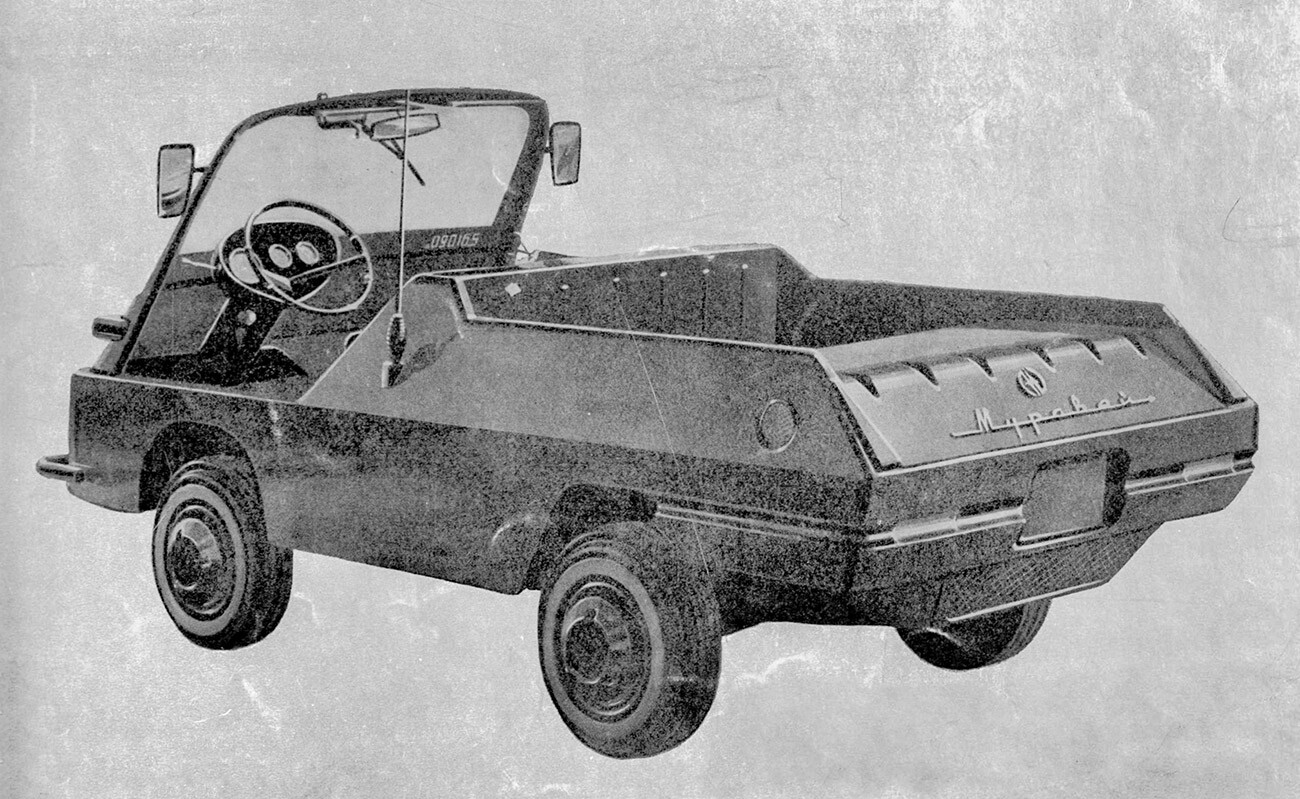 Technicheskaya Estetika magazine, 1967
Soviet DIY enthusiasts also built compact models. For example, the little 'Ant' with an open body was designed by engineer Oleg Ivchenko with sketches drawn by artist Eduard Molchanov. It had a Yava-354 motorcycle engine under its hood and a plywood body. It could transfer both cargo and passengers, reach a speed of 70 km/h and was not afraid to go off-road.
Dear readers,
Our website and social media accounts are under threat of being restricted or banned, due to the current circumstances. So, to keep up with our latest content, simply do the following:
Subscribe to our Telegram channel
Subscribe to our weekly email newsletter
Enable push notifications on our website
Install a VPN service on your computer and/or phone to have access to our website, even if it is blocked in your country